DOOH + RETARGETING MOBILE
REFUERZO DEL RECUERDO DE MARCA
Our large-format digital screens are the most impressive and revolutionary DOOH urban advertising platform on the market. Discover our advertising screens in Madrid city center.
One of the latest innovations incorporated by the outdoor media has been the possibility of retargeting its campaigns.
An advance that allows the brand not only to repeat in mobile the impact previously achieved with its outdoor action, but also to do so by addressing its target audience. If we add to this tool a unique location, such as the Callao Cinemas, where thousands of people pass daily, the result will be even better.
HOW DOES MOBILE RETARGETING WORK?
REINFORCING BRAND RECALL
Callao City Lights offers brands and agencies the possibility of extending their outdoor campaigns to the digital world. Clients will be able to re-impact through mobile, either massively or in a segmented way, the users who were previously impacted by the outdoor screens.
How does this process work? When a user, who has been previously impacted by our screens, uses an APP or browses a mobile site, an advertising opportunity will be generated that brands can take advantage of, by retargeting the user who responds to the advertiser's target.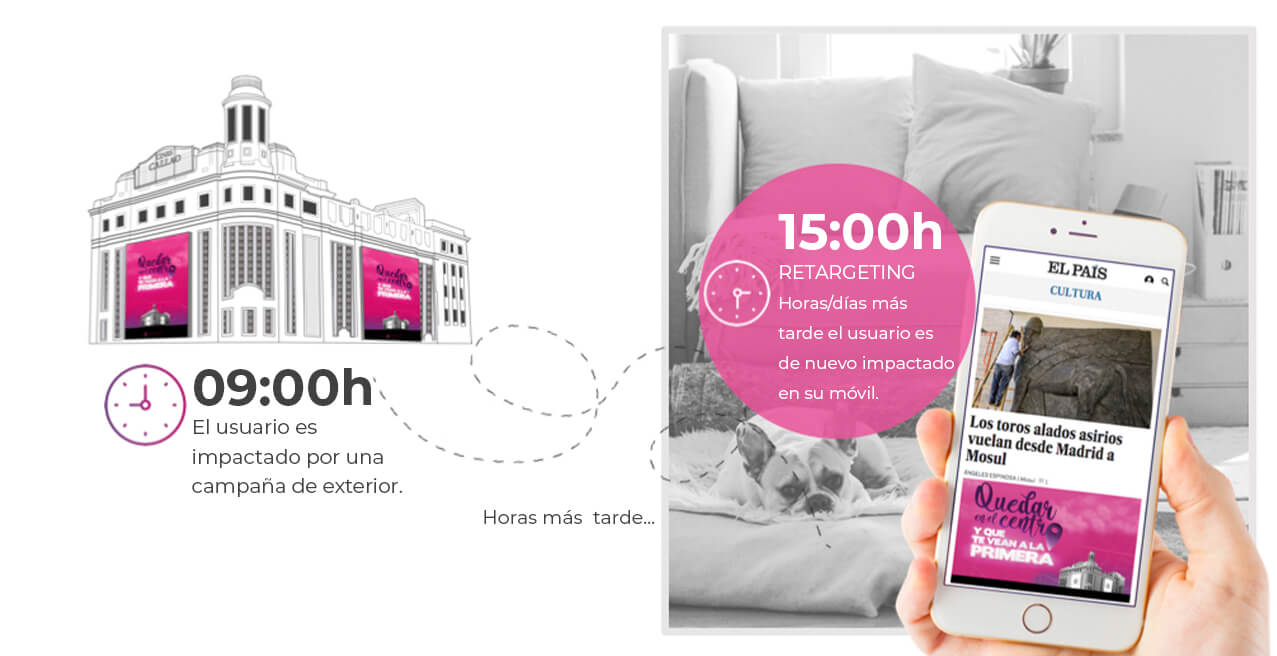 MOBILE RETARGETING PROCESS
REACTIVATING THE EXTERNAL AUDIENCE
01
Audience Analysis
We analyzed the OOH audience before starting the campaign in the Callao City Lights environment.
02
OOH Activation
We impacted users with the outdoor campaign.
03
Mobile Activation
We reinforce campaign recall through mobile retargeting in later days/hours.
.
04
Post Campaign Analysis
We measure and analyze the results of outdoor and mobile campaigns.
AUDIENCE MEASUREMENT
WE COUNT THE USERS LOCATED IN CALLAO CINEMAS
We can measure in real time the number of geolocated users in the vicinity of the Callao City Lights screens. To do this, we measure the user's GPS location and we count with our trackers, located under the screens, every mobile device that passes through the Callao square with active WIFI or Bluetooth.
User traffic that passed through our outdoor screens
Target affinity profiles.
Mobile re-targeting to DOOH users.
Qualified DOOH and mobile reports.
ANÁLISIS DOOH TERCER TRIMESTRE 2021
TERCER TRIMESTRE 2021 (1 JULIO - 30 SEPTIEMBRE)

Fuente: Infinia Mobile | Periodo de análisis: 1 de julio / 30 de septiembre 2021.
Las pantallas de Callao City Lights lograron, durante el tercer trimestre de 2021, más de 27 millones de impactos.
El 49,27% del público impactado eran hombres, y el 50,72% mujeres, de entre 26 a +55 años, con un nivel económico medio. Una audiencia interesada en tecnología, arte y entretenimiento, sociedad, viajes y familia.
Son las conclusiones del análisis realizado por Callao City Lights, según datos recogidos por Infinia Mobile entre los pasados 1 de julio y 30 de septiembre de 2021 en la zona de influencia de las pantallas de Callao City Lights.
Latest mobile retargeting actions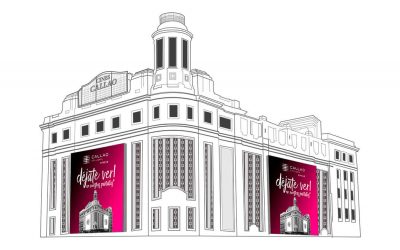 DECEMBER 2021 Actions on our screens   MORE THAN 4.5 MILLION IMPACTS ON CALLAO CITY LIGHTS   Callao City Lights continues to increase its audience and number of impacts. Between 29 November and 5...