JUNE 2022
EVENTS IN OUR SPACE
FELIPE VI, MAGALLANES AND ELCANO CONQUER CALLAO IN THE PREMIERE OF 'SIN LÍMITES'
King Felipe VI was the real star of the premiere of the miniseries ''Sin límites', held by Prime Vídeo at Cines Callao.  To the surprise of those present, the monarch went to the cinema and posed at the photocall with part of the series crew and other authorities.
Ver esta publicación en Instagram
Directed by Simon West and starring Álvaro Morte and Rodrigo Santoro, 'Sin límites', a series in which RTVE participates, tells the story of the epic round-the-world voyage of Juan Sebastián Elcano and Fernando Magellan, an expedition that is now celebrating its 500th anniversary. The premiere was also attended by the Mayor of Madrid, José Luis Martínez Almeida; the Minister of Defence, Margarita Robles; the Admiral Chief of Staff of the Navy, Antonio Martorell and the Head of Content for Prime Video Spain, Ricardo Cambronero. Felipe VI was also surrounded by other well-known faces, such as film director and actor Santiago Segura, journalist Nieves Herrero, presenter Luján Argüelles, actresses Bárbara Goenaga, who was accompanied by her current partner Borja Sémper, former PP spokesperson, and Alicia Borrachero, and aristocrat Beatriz de Orleans, among others. A vintage photocall All of them passed through the original photocall designed for the occasion at the entrance to the cinema, which recreated an authentic boat of the period and seemed to be sailing the roughest seas, thanks to the huge screen at the back that projected maritime images and some scenes from the series. In line with this décor, the red carpet was replaced by the wooden deck of a ship and the cinema hall became the interior of a ship. The miniseries consists of four one-hour episodes that were filmed entirely in Spanish in locations such as the Dominican Republic, the Basque Country, Navarre, Seville, Huelva and Madrid.
Other events in Callao City Lights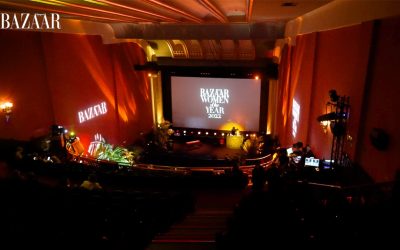 NOVEMBER 2022 EVENTS IN OUR SPACE  HARPER`S BAZAAR CHOOSES CALLAO FOR WOMEN OF THE YEAR AWARDS A night of luxury and glamour at Cines Callao. More than 250 guests attended the gala of the first...
Other actions in Callao City Lights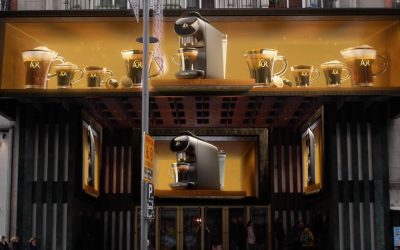 OCTOBER 2022 Actions on our Screens  L'OR FILLS THE GRAND VIA CIRCUIT SCREENS WITH COFFEE    A L'OR capsule protrudes from the screen and is enveloped by a swirl of golden powder and coffee beans,...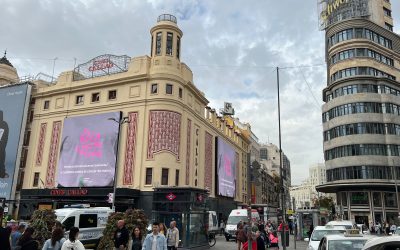 OCTOBER 2022Actions on our ScreensTHE SPANISH ASSOCIATION AGAINST CANCER COMMEMORATES IN CALLAO THE DAY AGAINST MOM'S CANCEROn the occasion of the International Day of the Fight against Breast...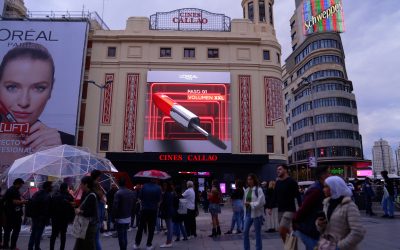 OCTOBER 2022 Actions on our screens  L'ORÉAL PARIS TURNS CALLAO SQUARE INTO A SPECTACULAR BEAUTY SALON   L'Oréal Paris has carried out with the collaboration of Callao City Lights a striking action...