MARCH 2019
Actions on our screens
UNICEF CAUSES "A BLACKOUT" IN CALLAO SQUARE
24 and 25 March 2017, the audience in Callao Square participated in an action consisting of causing a small blackout in the area. For each SMS sent to the telephone number on the gigantic screen owned by Cines Callao in the square, a donation was made to UNICEF, as the screen blacked out in areas, bit by bit.
The action, promoted by UNICEF with the collaboration of Cines Callao, was part of the #cierraUNICEF (#closeUNICEF) campaign that the organisation had put in motion to end, once and for all, the hardships millions of children suffer all over the world, so that its job would no longer be necessary. Callao City Lights collaborated in this action by providing UNICEF with its main big screen, located in Callao Square.
Other actions on our screens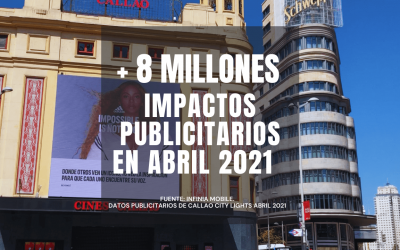 MAY 2021 Actions on our screens   MORE THAN 8 MILLION IMPACTS IN APRIL   Last April, the Callao City Lights screens registered nearly 8.3 million impacts on an audience of just over 2 million unique...