JUNE 2021
Actions on our screens 
BALEARIC TOURISM'S MOBILE RETARGETING CAMPAIGN
New retargeting action on the screens of Callao City Lights. Between 19 and 25 May, AETIB – Agència d'Estratègia Turística de les Illes Balears carried out a campaign to promote tourism in the region, combining DOOH impacts from the central screens of Callao City Lights with the subsequent mobile reactivation of those users who passed through the area during the campaign period.
The outdoor advertising strategy managed to reach more than one million unique users and exceeded 2.2 million impacts on an audience of men (49.84%) and women (50.16%), with an average age of 26 to 40 years (37.71%) and a socio-economic level mostly medium (44.94%). A public interested above all in art and entertainment, society, travel, home, sports and automotive, resident in Madrid (57.28%) and also with a job in Madrid (61.4%).
48.61% of the users impacted by the outdoor campaign were again impacted by the mobile retargeting strategy established in parallel. This mobile retargeting action featured 5 creatives and 3 different display formats (Interstitial, Robapáginas and Double Robapáginas) showing different activities that travellers can carry out in the Balearic Islands, reinforcing brand recall and positioning the Balearic archipelago as a tourist destination in the user's top-of-mind. The retargeting strategy achieved a viewability of almost 81% in the mobile campaign, and engagement rates that, thanks to the optimisation of the campaign, multiplied by 3 the interaction results of the interstitial format, and by 4 in the Double Steal Pages format. Furthermore, the campaign analysis shows that the highest interaction rates for this mobile campaign were achieved on the weekend (Saturday and Sunday) of the campaign, especially from 18:00 to 21:00.
Regarding the geo-profile of mobile users, more than 51% were men aged 26 to 40, of middle socio-economic level, interested in art and entertainment, society, travel and automotive. More than 53% live in Madrid and most of them have an Android device.
Data collected by Infinia Mobile between 19 and 25 May 2021 in the area of influence of the outdoor screens of the Callao Cinemas (Callao City Lights).
Other events in Callao City Lights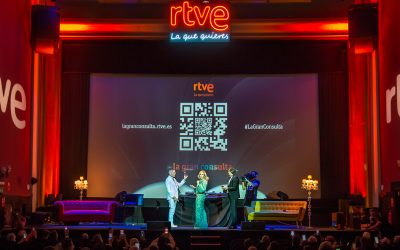 SEPTEMBER 2021 EVENTS IN OUR SPACE  RTVE PRESENTS ITS NEW SEASON IN CALLAO    No faltó nadie a la cita. Bajo el slogan 'RTVE, la que quieres', el pasado 9 de septiembre presentadores, actrices,...
Other actions in Callao City Lights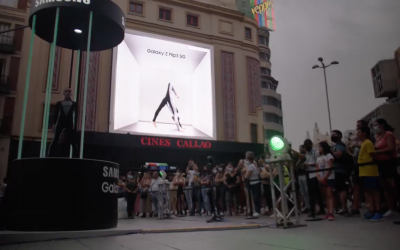 SEPTEMBER 2021 Actions on our screens   SAMSUNG #DESPLIEGATUMUNDO IN CALLAO SQUARE  Brief summary of the contortionism show #DespliegaTuMundo that we experienced last 06/09 in Plaza de Callao,...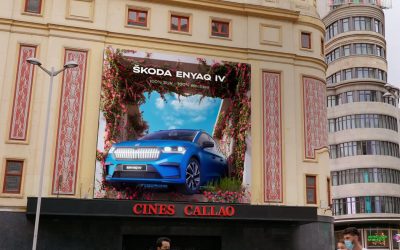 SEPTEMBER 2021 Actions on our Screens  CALLAO CITY LIGHTS BLOOMS WITH THE PASSAGE OF THE NEW ŠKODA ENYAQ iV  The walls of the Cines Callao crack to make way for the new ŠKODA ENYAQ iV, the first...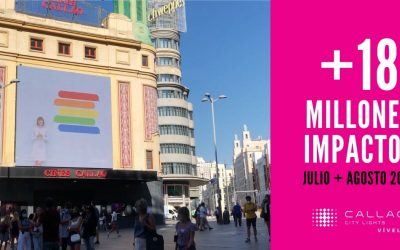 SEPTEMBER 2021 Actions on our screens   CALLAO CITY LIGHTS IMPACTS GROW BY 128%     The impact of our screens continues to rise. During the months of July and August, nearly 18.5 million impressions...