FLOOR 1
HAVE A LOOK AT OUR VENUE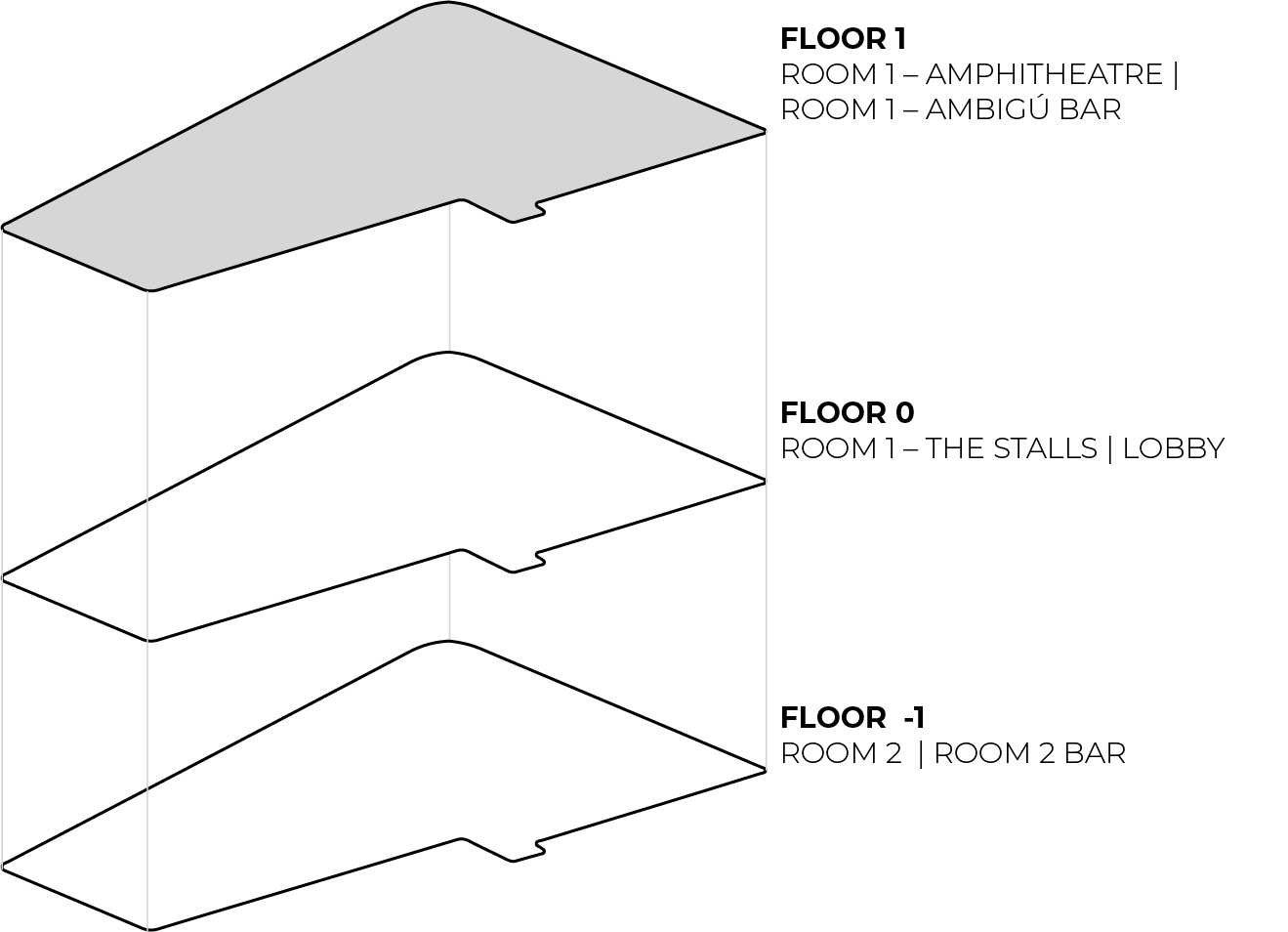 Callao City Lights, the best space to celebrate your corporate event or premiere, in an emblematic building in the heart of the city. And with the most innovative technical equipment on the market.
With access from the Plaza del Callao, Callao City Lights has two spaces on its access floor to Callao Cinemas: The building's lobby and the stalls of Hall 1.
In Callao City Lights you can celebrate premieres and a great number of corporate events such as product presentations, awards ceremonies, concerts, monologues, press conferences, fashion shows, company dinners, conferences, large events thanks to its large surface area, film and television shoots, etc. Do not hesitate to hold your event here, you will succeed.
FLOOR 1 | ROOM 1 – AMPHITHEATRE

DESCRIPTION
Our emblematic and versatile art deco room is divided into a ground floor (stalls) and an upper floor (amphitheatre). It includes 752 seats (474 on the ground floor, stalls, and 278 in the amphitheatre), a stage, a large screen and the best technical equipment.
Located on the first floor, it has 278 seats and direct access to the ambiguous bar on the first floor.
With a great panoramic view of the stalls or seating area (ground floor), it can be used as a complement or as an independent space for special events, thanks to the possibility it offers of incorporating structures that will make your event a unique and unforgettable experience.
DESCRIPTION
Capacity:
– 278 pax in armchair
Characteristics of the room:
– Surface area: 750 m2
– 2 floors
– Total capacity for 752 people
– 474 seats in the stalls and 278 seats in the amphitheatre
– Stage 11 x 4 metres
– Big Screen
Technical characteristics video:
– 1 NEC NC2000C Digital projector with 3D capability
– 1 3D screen of 10.5 x 5.6 mts – (Format) DCP Flat: 1998 x 1089
– (Format) DCP Scope: 2058 x 858
– (Format) PC or MAC: 1920 x 1080 in FLAT 16:9 format
Technical characteristics sound:
– 1 Bose Roommatch RM7010 Line Array (3 modules per side) with 4 Monitors and Delay
– 1 YAMAHA TF 5 32 channel sound table + 1 master
– 1 DANTE YAMAHA NY 64-D Card
– 2 Previous DANTE YAMAHA TIO 1608D (SCENARIO)
– 4 SHURE SM 58 Wireless Handheld Microphones
Technical characteristics lights:
– 4 Robotic Clay Paky Alpha Spot HE 300
– 2 Robotic Clay Paky Alpha Profile 1500
– 2 Ayrton Mistral robots – 8 Chauvet Rogue R2 Wash robots
– 4 ACME E300 LED cutouts – MB CW 15º- 30
– 2 LED Triton 160w zoom 25º- 50º 3200k
– 1 ETC Junior cut 25º – 50º
– 4 PAIR LED TRITON 36 X 3W RGB
– 8 ACME BL-200 WW blinding machines
– 1 MA Command Wing Lighting Console
OUR LATEST EVENTS
Presentations, press conferences, awards ceremonies, parades, parties, company dinners, etc. We have the best facilities and the most professional technical team to carry it out. A space equipped with the latest technological advances in sound, image and lighting, in an emblematic building located in the heart of Madrid.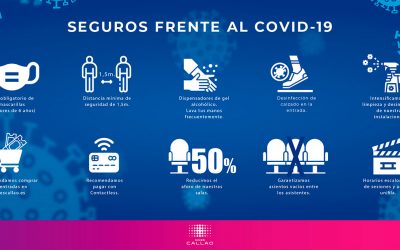 SEPTEMBER 2020 Actions on our Screens  CINES CALLAO REOPEN THEIR DOORS SAFELY AGAINST COVID19   We love to see you again in Callao Cinemas and for us, your safety is the most importat thing to take...
Contact Us
If you have any questions, please write to eventos@callaocitylights.es or fill this form and we will get in touch with you as soon as possible.
Calle Fuencarral, 123. 2º 28010 Madrid, Spain.
Phone number: +34 915 913 090