JULY 2022
EVENTS IN OUR SPACE
TIK TOK, CALVIN KLEIN, N26 AND MADRID CITY COUNCIL FILL CALLAO SCREENS WITH 'PRIDE'
Callao City Lights is flooded with colour, waving the Pride flag with campaigns by Tik Tok, Calvin Klein, N26 and Madrid City Council.
Under the slogan 'Learning together, sweeping together, here together', Tik Tok, the leading platform for mobile videos in short format, has launched an action in which it joins the Pride Week celebrations. Starring different tiktokers, the piece invites people to give free rein to their imagination on such special dates, highlighting the possibilities that the social network offers content creators.
A campaign full of colour and fun that will be broadcasted on the screens of Cines Callao and the Lope de Vega and Coliseum theatres until July 10th. The action has been managed in the media by Publicis Media.
Calvin Klein has launched a campaign in which anonymous citizens pose wearing clothes from the brand's new collection. Made up of nine different creatives featuring photographs of various groups of people, the action, managed by Billups Media, can be seen on the outdoor screens of the Callao Cinemas.
Likewise, the German online bank N26 launches an advertising campaign in Spain, with a creative featuring the LGTBI flag in which part of the financial institution's team appears wearing the colours of the rainbow ensign. Under the slogan 'N26, the bank of all colours', the piece is broadcast on all Gran Vía Circuit screens: Callao Cinemas and Coliseum, Lope de Vega and Gran Vía theatres. The action has been managed in the media by Alma Media.
Madrid City Council has also joined the celebrations with a piece starring the rainbow, reminding that from 1 to 10 July Madrid will be the scene of the great Pride Festival.
Other events in Callao City Lights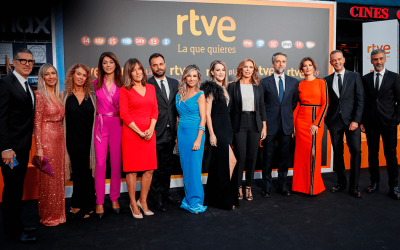 SEPTEMBER 2022 EVENTS IN OUR SPACE RTVE PRESENTS ITS NEW TELEVISION PROGRAMMING IN CALLAO CINEMAS Once again, RTVE chose our space to present its new television programming, on this occasion for the...
Other actions in Callao City Lights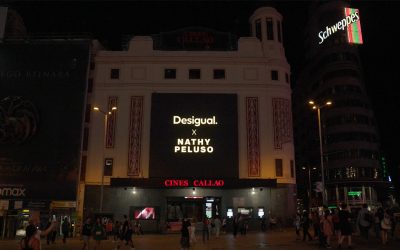 SEPTEMBER 2022 Actions on our Screens DESIGUAL PRESENTS ITS NEW CAMPAIGN WITH NATHY PELUSO AT CALLAO CITY LIGHTS    Desigual chose the screens of Callao City Lights to present its new advertising...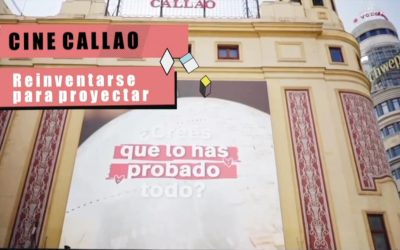 JUNIO 2022 CCL IN THE MEDIA CINES CALLAO STARRING 'CÁMARA ABIERTA' The TV programme Cámara Abierta, specialised in digital culture and broadcast by TVE (La2 and Canal 24 horas), came to Cines...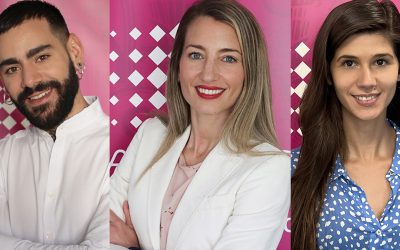 JUNIO 2022 CCL IN THE MEDIA CALLAO CITY LIGHTS STRENGTHENS ITS TEAM With the incorporation of Isabel Rodriguez, as event manager, Miguel Domingo, in marketing, and Laura Rodriguez, in the...