SEPTEMBER 2021
EVENTS IN OUR SPACE
TELVA HOLDS IN CALLAO THE FIRST CONFERENCE ON ENERGY AND HAPPINESS
The Congress, with Anne Igartiburu as master of ceremonies, focused on analysing the importance of the working environment, the role of new technologies, inspirational leadership, the personal development of young people and the impact of positive energy.
Tal Ben-Shahar, Doctor in Positive Psychology and Philosophy (HARVARD UNIVERSITY); Raj Sisodia, co-founder of the CONCIOUS CAPITALISM movement; Margarita Álvarez, founder of WORKING FOR HAPPINESS; Carlos de Hita, author of the book "The Sound of Nature"; Vas Narasimhan, CEO of NOVARTIS; María Hernández-Alcalá, co-founder and CEO of FUTURLIFE21, and Guillermo Martínez, founder of AYUDAME3D, were some of the nearly 20 speakers who participated in this meeting held in Room 1 of Callao City Lights. All of them were coordinated by Elsa Punset, writer, philosopher and populariser, in her role as content director of the Energy and Happiness Congress.
In addition, the rooftop space of the building served as a stage for different workshops on humour (Daniel Delacámara), interpersonal relationships (Pablo D'Ors), meditation (Alejandra Vallejo-Nágera) and physical health (Juan Ignacio Martínez Salamanca), which were open to those attending the congress. An opportunity to learn all the secrets of wellbeing: from nutrition, sleep, self-knowledge or personal relationships…
All of this with the support of the Callao City Lights screens, which showed, during the day, the celebration of this event.
Other events in Callao City Lights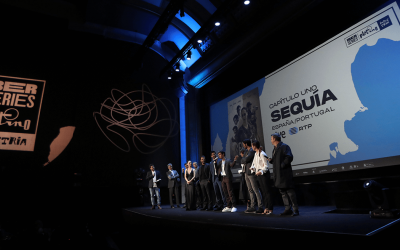 SEPTEMBER 2021 EVENTS IN OUR SPACE  CALLAO CINEMAS, STAGE OF THE I EDITION OF IBERSERIES PLATINO INDUSTRIA    The Callao Cinemas  were one of the venues chosen to celebrate the first edition of the...
Other actions in Callao City Lights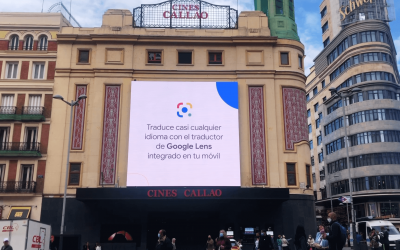 OCTOBER 2021 Actions on our Screens  GOOGLE LENS INVITES THE PUBLIC TO TRANSLATE THE TEXTS THAT APPEAR ON THE SCREENS OF CALLAO CITY LIGHTS.  To demonstrate the possibilities of the Google Lens...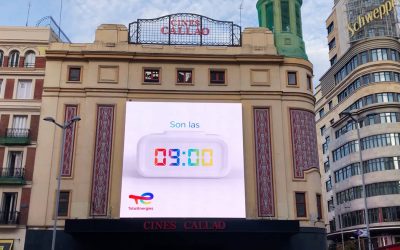 OCTOBER 2021 Actions on our Screens  TOTAL ENERGIES EMPLOYS HUMOUR AND CONTEXTUALISED CREATIVITY IN ITS FIRST CALLAO CAMPAIGN  Total Energies has used contextualised creativity in its first special...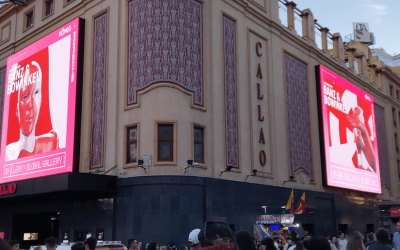 OCTOBER 2021 Actions on our Screens  PORSCHE TURNS CALLAO INTO A GLOBAL ART GALLERY  Porsche has chosen the most emblematic digital screens in the world to exhibit the work of emerging digital...