JUNE 2021
EVENTS IN OUR SPACE
'MASTERCHEF' AND SONY PICTURES HOLD A CINEMA COCKTAIL PARTY AT CALLAO CITY LIGHTS
'Masterchef', the successful culinary talent show produced by RTVE in collaboration with Shine Iberia, chose the rooftop of the Callao Cinemas to celebrate, with the collaboration of Sony Pictures Entertainment, the outdoor test of the ninth programme of its ninth edition.
The cookers, ovens and cooking ingredients were moved to the top of our building, where the contestants had to prepare a welcome cocktail for those attending the preview of 'Descarrilados', a comedy produced by Sony Pictures and starring Arturo Valls, Ernesto Sevilla, Julián López, Ana Milán and Dafne Fernández. A perfect example of how to combine two of our best spaces, the rooftop and the emblematic Sala 1, to achieve a cinematic result.
Each team had to prepare seven canapés that would transport the main characters of the film and sixty-five other VIP guests to the main European capitals. The tasting was also attended by contestants from other editions of 'MasterChef', such as Jorge Brazález and Miri, from 'MasterChef 5', Luna, from 'MasterChef 8', and Aitana, from 'MasterChef 7'.
Samantha Vallejo-Nágera, Pepe Rodríguez and Jordi Cruz, MasterChef chefs and jurors, did not miss the event.
Other events in Callao City Lights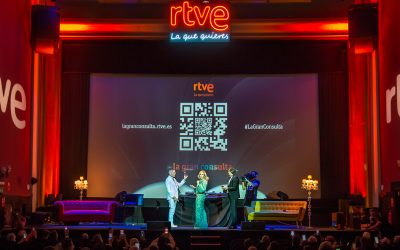 SEPTEMBER 2021 EVENTS IN OUR SPACE  RTVE PRESENTS ITS NEW SEASON IN CALLAO    No faltó nadie a la cita. Bajo el slogan 'RTVE, la que quieres', el pasado 9 de septiembre presentadores, actrices,...
Other actions in Callao City Lights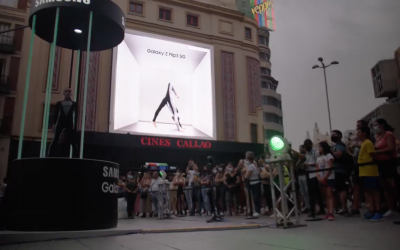 SEPTEMBER 2021 Actions on our screens   SAMSUNG #DESPLIEGATUMUNDO IN CALLAO SQUARE  Brief summary of the contortionism show #DespliegaTuMundo that we experienced last 06/09 in Plaza de Callao,...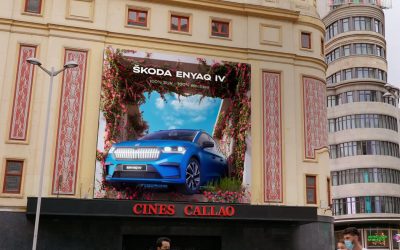 SEPTEMBER 2021 Actions on our Screens  CALLAO CITY LIGHTS BLOOMS WITH THE PASSAGE OF THE NEW ŠKODA ENYAQ iV  The walls of the Cines Callao crack to make way for the new ŠKODA ENYAQ iV, the first...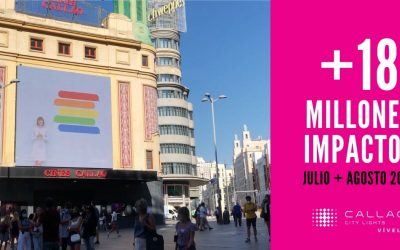 SEPTEMBER 2021 Actions on our screens   CALLAO CITY LIGHTS IMPACTS GROW BY 128%     The impact of our screens continues to rise. During the months of July and August, nearly 18.5 million impressions...