SEPTEMBER 2021
EVENTS IN OUR SPACE
CALLAO CITY LIGHTS, SCENARIO OF FOTOCASA PRO CONFERENCE 2021
The Cines Callao were the chosen venue for this year's Fotocasa Pro Conference, the most eagerly awaited event in the real estate sector.
Broadcast live and hosted by Santi Millán, in the purest style of a television show, this year's edition was attended by the most important figures in the real estate sector, such as Anna Gener, CEO of Savills Aguirre Newman in Barcelona; María Matos, director of studies and spokesperson for Fotocasa, and Alicia Asín, co-founder and CEO of Libelium and expert in smart cities and the Internet of Things (IoT).
Other speakers included Juan José Delgado, digital marketing specialist and Chief Digital Officer of Estrella de Galicia; José Luis Abajo, "Pirri", Olympic fencing medallist turned lecturer, and actor and scriptwriter Javi Sancho.
In Fotocasa Pro Conference they talked about trends, technology, innovation, market news… with the aim of helping real estate professionals to grow their business. The winners of the Fotocasa Pro Awards were also announced, which were held in 2020, in five categories:
– Real Estate Innovation Award which went to Vivendis.
– Real Estate Entrepreneurship Award, which went to HominUp
– Award for transparency and informative excellence which went to María Hernández (El Mundo)
– Award for the best business strategy which went to DDC Gestión Inmobiliaria
– Prize for the best strategy during COVID-19, awarded to Emergency Home.
Photos: Fotocasa Pro
Other events in Callao City Lights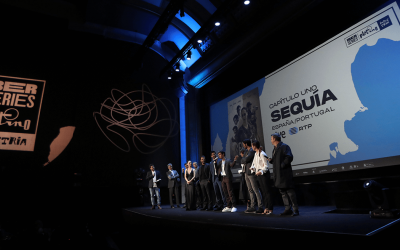 SEPTEMBER 2021 EVENTS IN OUR SPACE  CALLAO CINEMAS, STAGE OF THE I EDITION OF IBERSERIES PLATINO INDUSTRIA    The Callao Cinemas  were one of the venues chosen to celebrate the first edition of the...
Other actions in Callao City Lights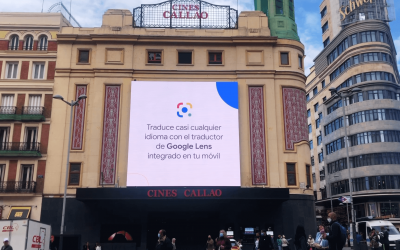 OCTOBER 2021 Actions on our Screens  GOOGLE LENS INVITES THE PUBLIC TO TRANSLATE THE TEXTS THAT APPEAR ON THE SCREENS OF CALLAO CITY LIGHTS.  To demonstrate the possibilities of the Google Lens...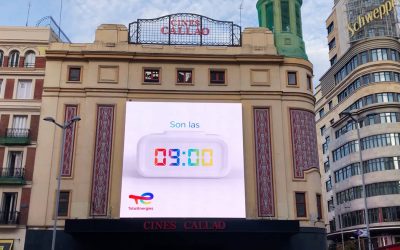 OCTOBER 2021 Actions on our Screens  TOTAL ENERGIES EMPLOYS HUMOUR AND CONTEXTUALISED CREATIVITY IN ITS FIRST CALLAO CAMPAIGN  Total Energies has used contextualised creativity in its first special...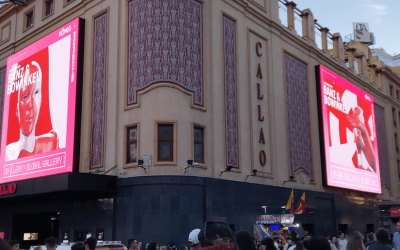 OCTOBER 2021 Actions on our Screens  PORSCHE TURNS CALLAO INTO A GLOBAL ART GALLERY  Porsche has chosen the most emblematic digital screens in the world to exhibit the work of emerging digital...