SEPTEMBER 2021
EVENTS IN OUR SPACE
CALLAO CINEMAS, STAGE OF THE I EDITION OF IBERSERIES PLATINO INDUSTRIA
The Callao Cinemas  were one of the venues chosen to celebrate the first edition of the Iberseries Platino Industria event, the biggest event in the Ibero-American audiovisual world.
A large number of industry professionals and spectators attended the event to see in our cinemas the 6 episodes of Doctor Portuondo, the first series produced by the Filmin platform, the premiere of the first episode of Sequía (a co-production between Spain and Portugal), the documentary Volando and the feature film Babenco, by Bárbara Paz (Brazil).
Iberseries Platino Industria is an initiative of Egeda and Fundación Secuoya with the support of the City Council and the Community of Madrid. During the last week of September, the meeting of television content professionals brought together more than 1,500 Ibero-American series professionals. In addition to the Cines Callao, this first edition of the event was also held at Matadero Madrid, as the main venue, Casa de América and the Capitol cinemas.
Images provided by Iberseries Platino Industria
Other events in Callao City Lights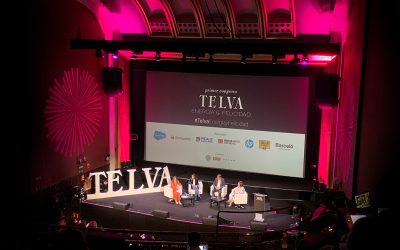 SEPTEMBER 2021 EVENTS IN OUR SPACE  TELVA HOLDS IN CALLAO THE FIRST CONFERENCE ON ENERGY AND HAPPINESS    With a huge success of attendees, both in person and in streaming, and under COVID health...
Other actions in Callao City Lights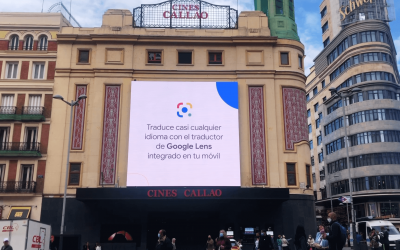 OCTOBER 2021 Actions on our Screens  GOOGLE LENS INVITES THE PUBLIC TO TRANSLATE THE TEXTS THAT APPEAR ON THE SCREENS OF CALLAO CITY LIGHTS.  To demonstrate the possibilities of the Google Lens...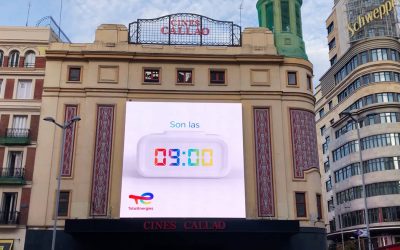 OCTOBER 2021 Actions on our Screens  TOTAL ENERGIES EMPLOYS HUMOUR AND CONTEXTUALISED CREATIVITY IN ITS FIRST CALLAO CAMPAIGN  Total Energies has used contextualised creativity in its first special...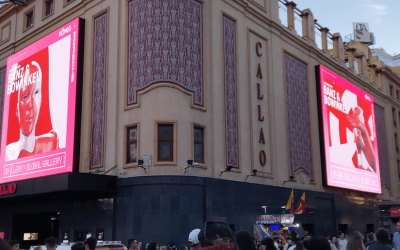 OCTOBER 2021 Actions on our Screens  PORSCHE TURNS CALLAO INTO A GLOBAL ART GALLERY  Porsche has chosen the most emblematic digital screens in the world to exhibit the work of emerging digital...