NOVEMBER 2017
OUR PREMIERES
MADRID PREMIERE WEEK ONCE AGAIN TRIUMPHS AT CINES CALLAO
Once again, Cines Callao rolled out the red carpet to celebrate the 7th Madrid Premiere Week. Four days of the best cinema enjoyed by a throng of spectators, including many famous celebrities and the artistic teams of some of the films vying for the awards.
For example, the crew from Muse, the new psychological thriller by Jaume Balagueró (REC and Sleep Tight), who attended the premiere with two of the actresses, Leonor Watlling and Manuela Vellés, and Gold, an adventure drama directed by Agustín Díaz Yanes, inspired by Spanish expeditions to the Amazon jungle in the 16th century. Díaz Yanes was also at Callao, along with the majority of the film's artistic cast, including Raúl Arévalo, Bárbara Lennie, Óscar Jaenada, José Coronado and Juan Diego.
In addition to Muse and Gold, James Franco's The Disaster Artist was also viewed this year, which won a Golden Shell at the San Sebastian Film Festival in 2017, and Breathe, by Andy Serkis.
Wind River, a thriller directed by Taylor Schreidar, Algo Muy Gordo, a sci-fi comedy directed by Carlo Padial starring Berto Romero, who also attended the presentation, and Hikari (Radiance), by Naomi Kawase, the director of "An (Sweet Bean)" were on the list of premieres in the off section. Moreover, El Juego, by Isabel Coixet, was shown, the third Proyecto Tiempo short film, an initiative by Gas Natural Fenosa to raise awareness in society about responsible energy use.
Other premieres at Callao City Lights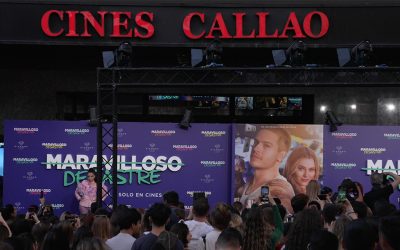 NOVEMBER 2023 EVENTS IN OUR SPACE  FUN PREMIERE OF 'CHRISTMAS IN THEIR HANDS'  Cines Callao opened its doors to welcome the stars of 'La Navidad en sus manos', the new Christmas comedy that will...