LA LISTA DE LOS DESEOS', FIRST PREMIERE IN SPAIN AFTER CONFINEMENT, WARMLY WELCOMED
Under the strict health safety measures and with a capacity limited to 50%, the premiere of 'La lista de los deseos' (The Wish List), the first film premiere in Spain, was held on 2 July at the Callao Cinemas in Madrid, after months of confinement.
Nearly 600 people attended this special event, which was the starting signal for the return to normality in the cinemas. The film's technical and artistic team and many other well-known faces from the cinema world and television were also present. Very pecial guests also attended: a group of health professionals representing all those professionals who have taken care of us during this pandemic.
After the film presentation, of which a percentage of the takings will go to the fight against cancer, the film's executive producer, Antonio Pérez, dedicated some moving words to these professionals and asked for a minute's silence for those who died in the pandemic.
Directed by Álvaro Díaz Lorenzo (Señor, dame paciencia) from Malaga, the film stars Victoria Abril, María León and Silvia Alonso, with Salva Reina, Boré Buika and Paco Tous, among others, in the cast. With the RTVE and Movistar participation, it has been produced by Antonio Pérez for the Seville production companies Suroeste Films and Spal films, and will be distributed and co-produced by Acontracorriente.
"We are delighted to be able to reopen our cinemas and return to the pre-confined dynamic, both in events and premieres and in film screenings. We are once again the first to take the initiative, betting on the return to normality and the revitalization of activity," said Josué Reyzábal, Cines Callao CEO.
Other premieres at Callao City Lights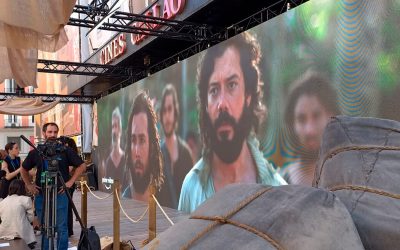 JUNE 2022EVENTS IN OUR SPACEFELIPE VI, MAGALLANES AND ELCANO CONQUER CALLAO IN THE PREMIERE OF 'SIN LÍMITES' King Felipe VI was the real star of the premiere of the miniseries ''Sin límites', held...