OCTOBER 2022
EVENTS IN OUR SPACE
CINES CALLAO HOSTS THE PREMIERE OF "INVISIBLES".
Full house at the Callao Cinemas for the premiere of the documentary 'Invisibles' on 20 October. A charity event supported by the Reyzábal family, who lent the Callao Cinemas and its outdoor screens for the presentation of this documentary.
Directed by Daniel Landa and produced by Miguel Sierralta, 'Invisibles' offers a story in the form of a documentary about the dignity of those people who sleep on the streets of Madrid, without us even being able to see them.
The pandemic has left a trail of broken lives that had nowhere to confine themselves, because in Madrid alone there are almost three thousand homeless people. They are our neighbours, invisible, who lost a job, young homosexuals who had to flee their countries looking for a place where they would not be persecuted. A bad run, an accident, a family that breaks up. Men and women who have been left without a safety net, without family, without friends, without anything… Stories that could happen to you.
The documentary also looks at the work of those who reach out to those who have lost everything. Silent heroes who do not lose hope and who remind us that getting off the street… is possible. A documentary where the protagonists are not actors or actresses but real people with sad but worthy stories to be told. Stories that, who knows, may one day be told in a different way, with a happy ending.
Miguel Sierralta, producer of the documentaries 'Pablo Escobar, ángel o demonio', 'Porfirio Rubirosa, el primer playboy', 'Celia Cruz: La leyenda', and soon 'El Juli y la Tauromaquia'; and Daniel Landa, director of the series 'Un Mundo Aparte', 'Pacífico' and 'Atlántico', have worked together on this overwhelming project.
The premiere was attended by the Deputy Mayoress of Madrid, Begoña Villacís, the Reyzábal family and Father Ángel, among others. "We are proud to be able to collaborate in the presentation of a documentary like 'Invisibles', which seeks to make homeless people living in Madrid visible and raise awareness of their situation. CSR actions like this are for us an important part of our activity", says Josué Reyzábal, CEO of Callao City Lights.
Other events in Callao City Lights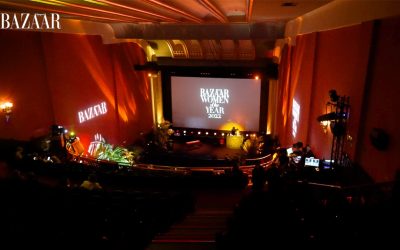 NOVEMBER 2022 EVENTS IN OUR SPACE  HARPER`S BAZAAR CHOOSES CALLAO FOR WOMEN OF THE YEAR AWARDS A night of luxury and glamour at Cines Callao. More than 250 guests attended the gala of the first...
Other actions in Callao City Lights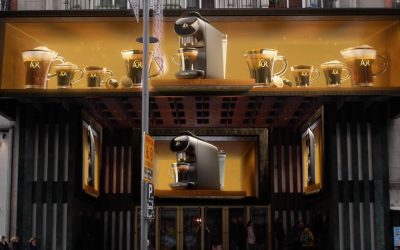 OCTOBER 2022 Actions on our Screens  L'OR FILLS THE GRAND VIA CIRCUIT SCREENS WITH COFFEE    A L'OR capsule protrudes from the screen and is enveloped by a swirl of golden powder and coffee beans,...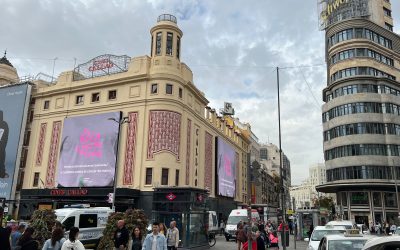 OCTOBER 2022Actions on our ScreensTHE SPANISH ASSOCIATION AGAINST CANCER COMMEMORATES IN CALLAO THE DAY AGAINST MOM'S CANCEROn the occasion of the International Day of the Fight against Breast...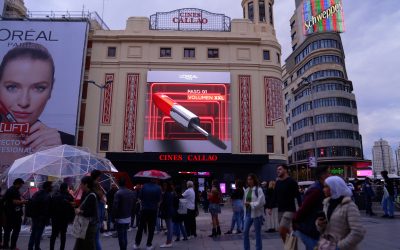 OCTOBER 2022 Actions on our screens  L'ORÉAL PARIS TURNS CALLAO SQUARE INTO A SPECTACULAR BEAUTY SALON   L'Oréal Paris has carried out with the collaboration of Callao City Lights a striking action...