NOVEMBER 2018
OUR PREMIERES
CINEMAS CALLAO HOSTS THE VIII MADRID PREMIERE WEEK
One more year Atresmedia Cine has chosen the Callao Cinemas to celebrate one of the most outstanding film events in the capital: Madrid Premiere Week.
In its eighth edition, the festival has included the screenings of Un hombre fiel, by Louis Garrel; Como la vida misma, directed by Dan Fogelman; the documentary Morir para contar, by Hernán Zin; Kursk, a historical drama directed by Thomas Vintenberg and starring Matthias Schoenaerts, the Oscar-winning Colin Firth and Léa Seydoux; Joy, Sadness, by Ibón Cormenzana, and Women, a musical documentary directed by Coque Malla and starring some of the crucial women in his life, such as Leonor Watling, Ángela Molina, Jeanette, Amparo Valle, Alondra Bentley and Anni B. Sweet. A luxury of premieres that did not want to miss many famous faces or, of course, the main characters of some of the films.
Other premieres at Callao City Lights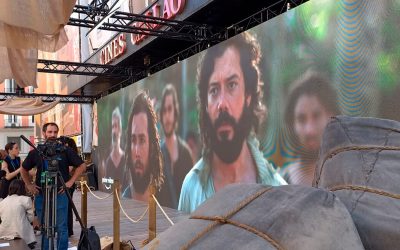 JUNE 2022EVENTS IN OUR SPACEFELIPE VI, MAGALLANES AND ELCANO CONQUER CALLAO IN THE PREMIERE OF 'SIN LÍMITES' King Felipe VI was the real star of the premiere of the miniseries ''Sin límites', held...