NOVEMBRE 2016
OUR PREMIERES
BRAD PITT AND MARION COTILLARD "REVOLUTIONISE" CALLAO SQUARE WITH THE PREVIEW OF "ALLIED"
As predicted, Madrid's Square of Callao was entirely sold out. Hundreds of people swarmed around Cines Callao to catch an up-close glimpse of Brad Pitt and Marion Cotillard, who came for the 6th Madrid Premiere Week's preview of Allies, a film directed by Robert Zemeckis (Back to the Future, Forrest Gump), starring the famous actors.
Nearly 1,200 spectators had the chance to attend this first viewing of the feature-length film, a romantic drama blending espionage and suspense in a story set in WWII. Before the viewing, Brad Pitt and a very pregnant Marion Cotillard posed for photographers at the photo op booth at the cinema entrance, accompanied by Graham King, the film's producer.
Other premieres at Callao City Lights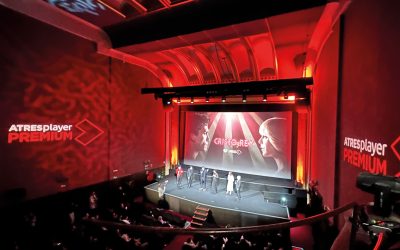 JANUARY 2023 EVENTS IN OUR SPACE  FULL HOUSE AT THE PREMIERE OF 'CRISTO Y REY'  Nobody wanted to miss the preview at Cines Callao of 'Cristo y Rey', the eagerly awaited series about the relationship...