MARCH 2021
Callao City Arts
NIRAV PATEL AND JESSE WOOLSTON, ARTISTS OF MARCH IN CALLAO CITY ARTS
This March, Callao City Arts, the cultural initiative of Callao City Lights and Cultura Inquieta, will offer on the outdoor screens of the Callao Cinemas an exhibition of the work of the San Francisco-based Indian photographer Nirav Patel and the New Zealand video artist Jesse Woolston.
Nirav Patel 's work is full of emotive portraits that breathe moments of serenity. His pieces often involve shaping both natural and artificial light in dramatic ways to draw attention to the expression and emotion of his subjects.
Although in Sanskrit his name means "quiet", the author explains that it is a mere coincidence that the theme he chose to explore in photography was quiet moments.
His beginnings were in wedding photography, due to his interest in preserving and documenting memories. He then began experimenting with light and portraiture, initially to achieve simply beautiful images, and later, with an undercurrent of intentionality, to convey emotions, such as loneliness or tranquillity, to the viewer.
Jesse Woolston  is a multimedia artist and composer from Auckland, New Zealand. His visual art explores the incandescence of shape-shifting geometry, accompanied by the soundtrack of his own musical works, electronic in nature, sometimes minimalist piano compositions, reminiscent of the early works of French pianist Erik Satie. In Callao City Lights we can also see how the artist hypnotically dilutes the work of artists of all times, from the Renaissance to 20th century cubism.
Other events in Callao City Lights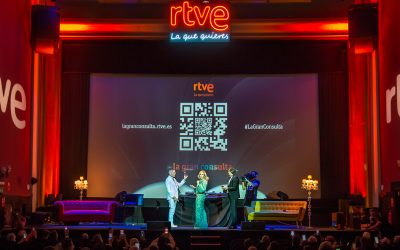 SEPTEMBER 2021 EVENTS IN OUR SPACE  RTVE PRESENTS ITS NEW SEASON IN CALLAO    No faltó nadie a la cita. Bajo el slogan 'RTVE, la que quieres', el pasado 9 de septiembre presentadores, actrices,...
Other actions in Callao City Lights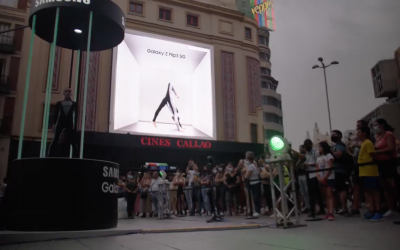 SEPTEMBER 2021 Actions on our screens   SAMSUNG #DESPLIEGATUMUNDO IN CALLAO SQUARE  Brief summary of the contortionism show #DespliegaTuMundo that we experienced last 06/09 in Plaza de Callao,...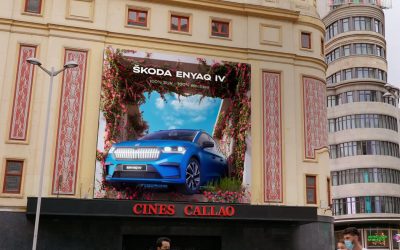 SEPTEMBER 2021 Actions on our Screens  CALLAO CITY LIGHTS BLOOMS WITH THE PASSAGE OF THE NEW ŠKODA ENYAQ iV  The walls of the Cines Callao crack to make way for the new ŠKODA ENYAQ iV, the first...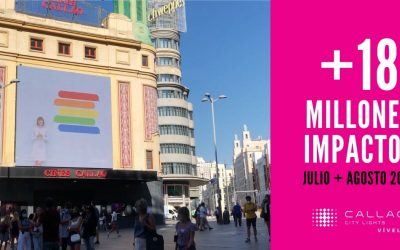 SEPTEMBER 2021 Actions on our screens   CALLAO CITY LIGHTS IMPACTS GROW BY 128%     The impact of our screens continues to rise. During the months of July and August, nearly 18.5 million impressions...