MAY 2021
Actions on our screens 
'ZOMBIE', DISNEY'S ACTION IN CALLAO CITY LIGHTS, GOLD AT THE PROMAX EUROPE AWARDS 2021
'Zombie', The Walt Disney Company's stunning 3D outdoor piece created specifically for broadcast on the outdoor screens of Callao City Lights, has been awarded gold in the Out-of-Home Ad section of the Promax Europe Awards 2021. A competition in which Europe's most impactful entertainment marketing and design work is judged for its contribution to creating value and building the most important brands in the world of entertainment.
The action, designed and developed by BCN Visuals, was broadcast last February, with the collaboration of Publicis Imagine, on the large-format digital screens located on the façades of the Callao Cinemas, on the occasion of the premiere of the new season of The Walking Dead, the popular cult series that millions of viewers follow around the world.
Thanks to creativity and 3D technology, a zombie appeared to emerge from the screens of Callao City Lights to try to catch people on the street, after tearing off the wooden planks that will cover the supports, located outside the popular Madrid cinemas.
Other events in Callao City Lights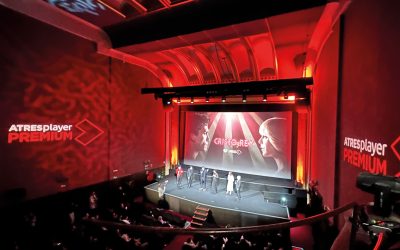 JANUARY 2023 EVENTS IN OUR SPACE  FULL HOUSE AT THE PREMIERE OF 'CRISTO Y REY'  Nobody wanted to miss the preview at Cines Callao of 'Cristo y Rey', the eagerly awaited series about the relationship...
Other actions in Callao City Lights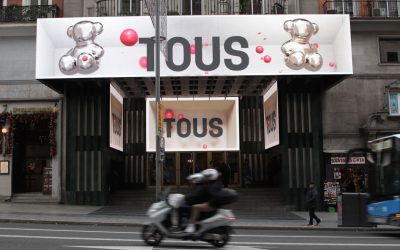 DECEMBER 2022 Actions in our screens  THE TOUS BEARS ARRIVE ON THE GRAN VIA    The jewellery and accessories firm Tous has launched an original Christmas campaign on several screens at Circuito Gran...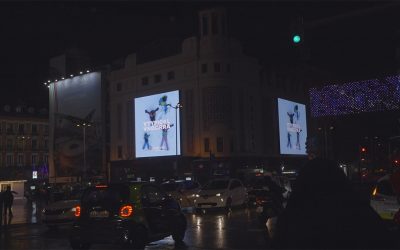 DECEMBER 2022 Actions on our Screens  ANDORRA IS PROMOTED AS AN ATYPICAL TOURIST DESTINATION ON THE GRAN VÍA CIRCUIT    Turismo de Andorra (Visitandorra) has chosen the Circuito Gran Vía  screens to...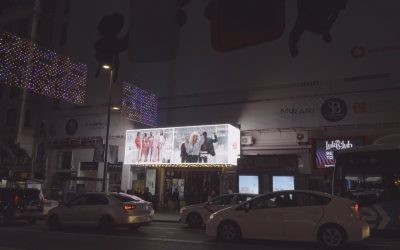 DECEMBER 2022 Actions on our Screens H&M DRESSES THE SCREENS OF THE GRAN VÍA CIRCUIT FOR A CHRISTMAS PARTY The screens of Circuito Gran Vía become a Christmas showcase thanks to H&M, which...