JANUARY 2020
Actions on our screens
TOMMY HILFIGER AND CALLAO CITY LIGHTS OR HOW TO COMBINE OUTDOOR AND MOBILE TO ENHANCE BRAND RECALL
One of the latest developments in the outdoor advertising has been the possibility of retargeting your campaigns. This advance allows the brand not only to repeat on mobile phones the impact previously achieved with its outdoor action, but also to do so by addressing its target audience. If we add to this tool a unique location where thousands of people pass every day, the result will be even better.
This is what happened recently with the campaign 'City Time' carried out on the Callao City Lights' screens, located on the facades of Madrid's Callao Cinemas, to promote the new watches collection from the Tommy Hilfiger brand. The action, starring the American actress and singer Zendaya, was broadcast between 16 and 22 December, while a retargeting campaign using interstitials and preroll videos was carried out.
A high level of engagement was achieved, as revealed by the campaign results: an average CTR of the interstitial of 0.90%, which exceeds the format average (which is around 0.60%), and a VTR video average of 86.07%, also much higher than the format average (around 0.65%). In total, the video was full viewed 137,854 times, achieving a very high awareness result.
Regarding to outdoor, the campaign achieved more than 2 million total impacts, reaching 1.1 million unique users, on an audience made up of 55% women and 45% men. Most of them are over 41 years old, resident in the Community of Madrid, and with an average socioeconomic level (49%).
Other events in Callao City Lights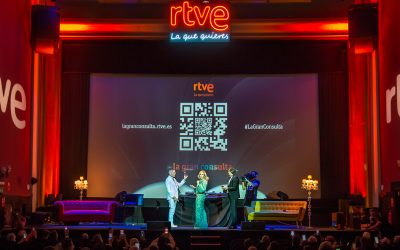 SEPTEMBER 2021 EVENTS IN OUR SPACE  RTVE PRESENTS ITS NEW SEASON IN CALLAO    No faltó nadie a la cita. Bajo el slogan 'RTVE, la que quieres', el pasado 9 de septiembre presentadores, actrices,...
Other actions in Callao City Lights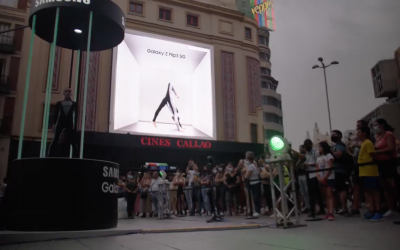 SEPTEMBER 2021 Actions on our screens   SAMSUNG #DESPLIEGATUMUNDO IN CALLAO SQUARE  Brief summary of the contortionism show #DespliegaTuMundo that we experienced last 06/09 in Plaza de Callao,...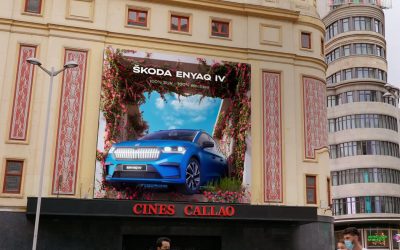 SEPTEMBER 2021 Actions on our Screens  CALLAO CITY LIGHTS BLOOMS WITH THE PASSAGE OF THE NEW ŠKODA ENYAQ iV  The walls of the Cines Callao crack to make way for the new ŠKODA ENYAQ iV, the first...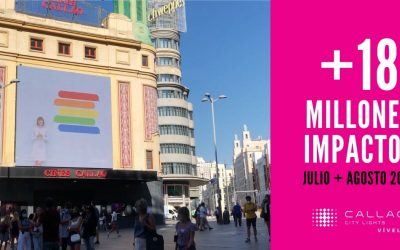 SEPTEMBER 2021 Actions on our screens   CALLAO CITY LIGHTS IMPACTS GROW BY 128%     The impact of our screens continues to rise. During the months of July and August, nearly 18.5 million impressions...