OCTOBER 2021
Actions on our Screens
THE NEW MERCEDES EQS, AS IF FALLING FROM THE SKY
A vehicle appears to fall from the sky at Callao City Lights to finish its journey appearing to protrude from the screens, thanks to the 3D effect. This is the special action that the carmaker Mercedes has launched on the outdoor screens of the Cines Callao to publicise the launch of the new 100% electric EQS . A vehicle with a range of up to 824 kilometres in the city.
The 3D campaign was developed by BCN Visuals and planned by OMG. A work that can be seen in a day and night version, so that the effect of falling and 3D is even more striking and credible. The action, which is also being developed in other media, is disseminated under the slogan 'For us, for our world'.
With a power output of up to 385 kW (523 hp), the new 100% electric Mercedes EQS features an aerodynamic design, frameless doors, revolutionary lighting with Digital Light headlights and an unprecedented futuristic interior display (56″ MBUX Hyperscreen) that brings us fully into a new era of motoring.
Video courtesy of BCN Visuals
Other events in Callao City Lights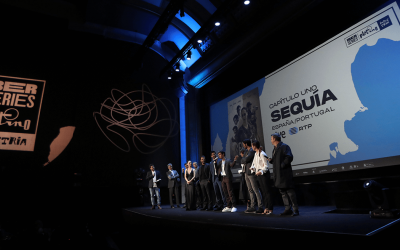 SEPTEMBER 2021 EVENTS IN OUR SPACE  CALLAO CINEMAS, STAGE OF THE I EDITION OF IBERSERIES PLATINO INDUSTRIA    The Callao Cinemas  were one of the venues chosen to celebrate the first edition of the...
Other actions in Callao City Lights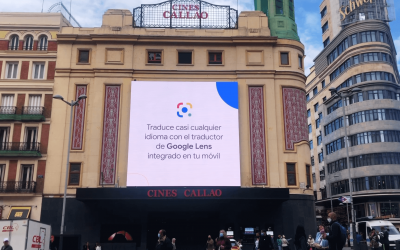 OCTOBER 2021 Actions on our Screens  GOOGLE LENS INVITES THE PUBLIC TO TRANSLATE THE TEXTS THAT APPEAR ON THE SCREENS OF CALLAO CITY LIGHTS.  To demonstrate the possibilities of the Google Lens...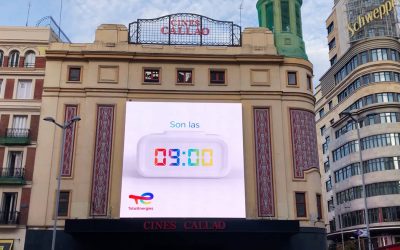 OCTOBER 2021 Actions on our Screens  TOTAL ENERGIES EMPLOYS HUMOUR AND CONTEXTUALISED CREATIVITY IN ITS FIRST CALLAO CAMPAIGN  Total Energies has used contextualised creativity in its first special...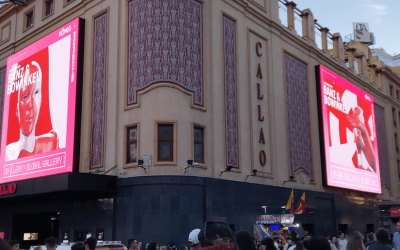 OCTOBER 2021 Actions on our Screens  PORSCHE TURNS CALLAO INTO A GLOBAL ART GALLERY  Porsche has chosen the most emblematic digital screens in the world to exhibit the work of emerging digital...