DECEMBER 2021
Actions on our Screens
THE MARKET GARDEN OF MURCIA COMES TO CALLAO
Murcia Tourism has launched a 3D action on the screens of Callao City Lights to promote tourism in the region. Under the slogan 'Esencia de huerta, alma de ciudad' (the essence of the market garden, the soul of the city), the campaign shows emblematic places of the city together with landscapes of the huerta of Murcia, one of the region's emblems.
The piece begins with the collapse of a layer of sandstone that apparently covers the Portada del Huerto de las Bombas, one of the symbols of Murcia's famous Paseo del Malecón. A sequence that gives way to the spectacular orchard of Murcia and ends with the image of the façade of the Moneo building, which represents the most modern part of the city, and whose reflection once again shows the monument with which the piece opened, as a sample of the present and the past of a city with roots that looks towards the future.

The action, designed by BCN Visuals, was managed in the media by Proximia Havas.
Other events in Callao City Lights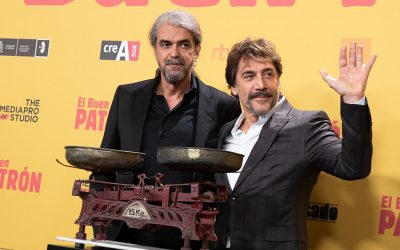 DECEMBER 2021 EVENTS IN OUR SPACE  HBO CELEBRATES THE PREMIERE OF 'SIN NOVEDAD' ('NO ACTIVITY') IN CALLAO    New successful premiere of HBO Max at Cines Callao.. Many well-known celebrities and the...
Other actions in Callao City Lights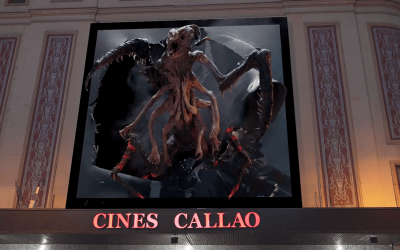 DECEMBER 2021 Actions on our Screens  THE NEW SEASON OF THE WITCHER HITS THE SCREENS OF CALLAO CITY LIGHTS  🐺 The Witcher, starring Henry Cavill bursts in 3D on the screens of Callao.Discover the...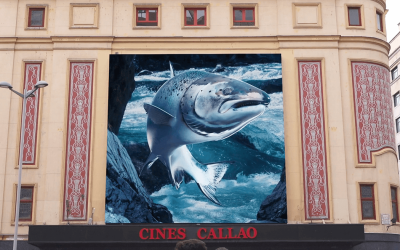 DECEMBER 2021 Actions on our Screens  AHUMADOS DOMINGUEZ FROM THE RIVER TO THE CALLAO SQUARE  A huge salmon surprises us with its spectacular leap from a river, giving the impression that it jumps...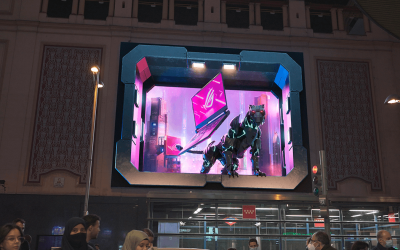 DECEMBER 2021 Actions on our Screens  ASUS OPENS THE DOORS TO THE GAMER UNIVERSE AT CALLAO CITY LIGHTS  With a spectacular 3D campaign featuring the new ASUS ROG Strix G Advantage Edition notebook...