DECEMBER 2021
Actions on our Screens
THE MARKET GARDEN OF MURCIA COMES TO CALLAO
Murcia Tourism has launched a 3D action on the screens of Callao City Lights to promote tourism in the region. Under the slogan 'Esencia de huerta, alma de ciudad' (the essence of the market garden, the soul of the city), the campaign shows emblematic places of the city together with landscapes of the huerta of Murcia, one of the region's emblems.
The piece begins with the collapse of a layer of sandstone that apparently covers the Portada del Huerto de las Bombas, one of the symbols of Murcia's famous Paseo del Malecón. A sequence that gives way to the spectacular orchard of Murcia and ends with the image of the façade of the Moneo building, which represents the most modern part of the city, and whose reflection once again shows the monument with which the piece opened, as a sample of the present and the past of a city with roots that looks towards the future.

The action, designed by BCN Visuals, was managed in the media by Proximia Havas.
Other events in Callao City Lights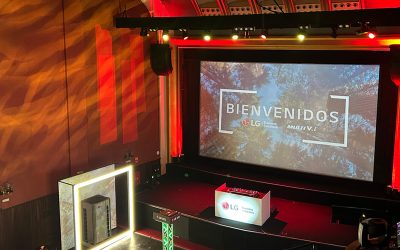 MAY 2023 EVENTS IN OUR SPACE   LG CHOOSES CALLAO TO PRESENT ITS NEW AIR CONDITIONING SYSTEM WITH IA    Callao City Lights was the venue chosen by LG to present Multi V i, its new air-conditioning...
Other actions in Callao City Lights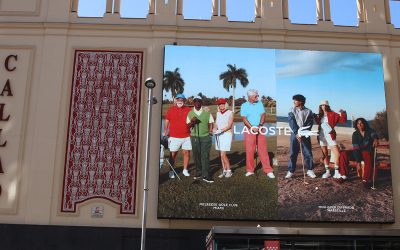 MAY 2023 Actions in our screens LACOSTE SHOWS 'IMPOSSIBLE ENCOUNTERS' AT CALLAO CITY LIGHTS  To celebrate its 90th anniversary, Lacoste has launched a new campaign 'Impossible encounters' at Callao...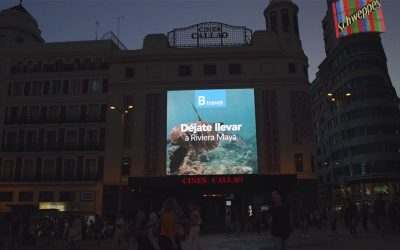 MAY 2023 Actions in our screens B TRAVEL BRAND BRINGS THE RIVIERA MAYA TO THE GRAN VIA IN MADRID  Riviera Maya comes to the centre of Madrid thanks to Circuito Gran Vía and B Travel Brand. A...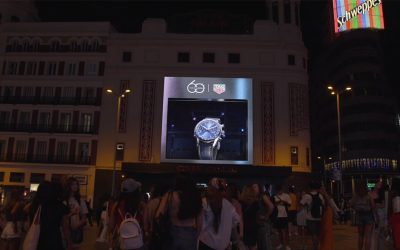 MAY 2023 Actions in our screens CIRCUITO GRAN VÍA, SHOWCASE OF PREMIUM AND LUXURY BRANDS IN MADRID  Madrid's Gran Vía is the city's new golden mile thanks to Circuito Gran Vía, where more and more...