SEPTEMBER 2021
Actions on our Screens
THE CALLAO SCREENS, IN THE FIRST PANCRACIO'S CAMPAIGN
The Spanish gourmet chocolate brand debuts with Agencia Kids with a 3D action on the screens of Callao City Lights.
The gourmet chocolate brand Pancracio, present in the market since 2003, launches its first advertising campaign created by the strategic-creative agency Kids. 
Under the slogan #artisanattitude, the campaign focuses on promoting the aesthetic side of the brand and its attention to detail, from the raw material to the packaging. As a launch action, Pancracio has resorted to the latest technology: a 3D action on the outdoor screens of the Cines Callao in Madrid. A work, developed by  BCN Visuals in collaboration with Agencia Kids, where the brand is presented to the public in the Plaza del Callao 'delivering' its most precious good: chocolate.
"Pancracio is more than a chocolate designed for those who know how to enjoy small pleasures. It is an artisan brand that takes care of the details to the maximum, combining an elegant design, unexpected fusions of flavours and exceptional quality," says Federico Martínez Weber, the brand's leader since 2018.
Thanks to the 3D effect, two hands bring us a mysterious white box screen-printed on its rim with the name Pancracio, wrapped with a bow that unravels to reveal its precious contents: a selection of its tablets. Innovation and tradition united in a successful artisan product that is sold in large supermarkets and gourmet spaces all over the world, as well as in its own online shop.
The action in Callao City Lights, which began on 17 September and can be seen until the end of the month, marks the start of a campaign made up of various graphic and audiovisual pieces that represent the different products and moments of consumption, and whose media plan ranges from online to outdoor advertising.
Other events in Callao City Lights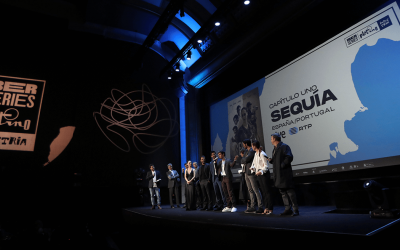 SEPTEMBER 2021 EVENTS IN OUR SPACE  CALLAO CINEMAS, STAGE OF THE I EDITION OF IBERSERIES PLATINO INDUSTRIA    The Callao Cinemas  were one of the venues chosen to celebrate the first edition of the...
Other actions in Callao City Lights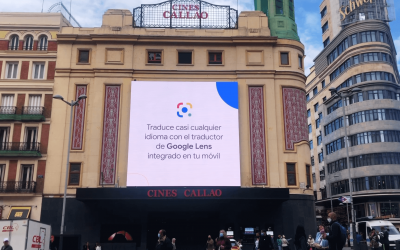 OCTOBER 2021 Actions on our Screens  GOOGLE LENS INVITES THE PUBLIC TO TRANSLATE THE TEXTS THAT APPEAR ON THE SCREENS OF CALLAO CITY LIGHTS.  To demonstrate the possibilities of the Google Lens...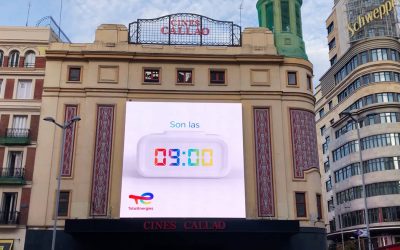 OCTOBER 2021 Actions on our Screens  TOTAL ENERGIES EMPLOYS HUMOUR AND CONTEXTUALISED CREATIVITY IN ITS FIRST CALLAO CAMPAIGN  Total Energies has used contextualised creativity in its first special...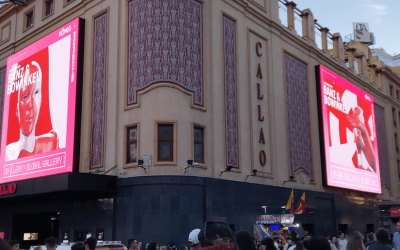 OCTOBER 2021 Actions on our Screens  PORSCHE TURNS CALLAO INTO A GLOBAL ART GALLERY  Porsche has chosen the most emblematic digital screens in the world to exhibit the work of emerging digital...