Other actions on our screens
SPECTACULAR CAMPAIGN OF WWF SPAIN AND MUSEO DEL PRADO ON THE OCCASION OF THE CLIMATE SUMMIT
WWF Spain and the Prado Museum wanted to show their support for the Climate Summit (COP25), held in Madrid, by broadcasting a spectacular joint campaign on the screens of Callao City Lights. Under the slogan If the climate changes, everything changes, the initiative aimed to show what a planet would be like if the temperature increased by more than 1.5ºC, the turning point established by scientists to avoid the worst damage and unpredictable consequences.
The action, entitled +1.5ºC Changes Everything, used art as a universal language to explain in a shocking and novel way the damage that would be caused by a rise in the Earth's temperature. Through the reinterpretation of 4 great art masterpieces, such as Joachim Patinir's "El Paso de la laguna Estigia", Francisco de Goya's "El Quitasol", Joaquín Sorolla's "Los niños en la plaza" and Velázquez's "Felipe IV a caballo", the campaign warned of the rise in sea level, the extinction of species, the drama of climate refugees or the disappearance of rivers and crops due to extreme drought.
The creative development of the campaign was carried out by the CHINA advertising agency, under the supervision of the museum's conservation managers, and it was also shown on different digital media throughout the country and on social networks, with the hashtag #LoCambiaTodo.
Other premieres at Callao City Lights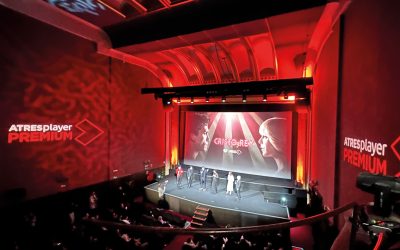 JANUARY 2023 EVENTS IN OUR SPACE  FULL HOUSE AT THE PREMIERE OF 'CRISTO Y REY'  Nobody wanted to miss the preview at Cines Callao of 'Cristo y Rey', the eagerly awaited series about the relationship...