APRIL 2017
Actions on our screens
SAMSUNG HOSTS A SYNCHRONISED ACTION ON THE SCREENS OF GRAN VÍA
To launch the new Galaxy S8 device, Samsung hosted a spectacular action, simultaneously using five screens in Callao Square, including the Callao City Lights screens. El Corte Inglés also participated in this advertising action with its vertical screen, and Súper 8, with the screens on the Fnac building and the Palacio de la Prensa. In a coordinated way, they all displayed a spectacular animation that flowed from one screen to another.
Under the motto Unbox Your Phone, the projection began with a countdown to show the new Samsung Galaxy S8, which has a frameless screen and new features, such as the smart Bixby assistant and iris recognition. An original animation with an ocean background, where the image of a gigantic whale and a diver harmoniously went from one screen to another, soaked Callao Square for an hour.
Other actions on our screens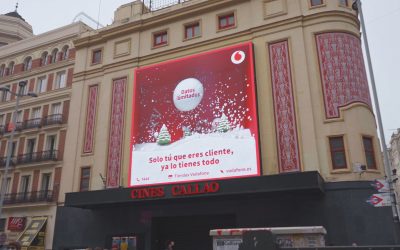 DECEMBER 2020 Actions on our Screens  VODAFONE, MRS. RUSHMORE AND YMEDIA MAKE THE FIRST 3D CAMPAIGN IN CALLAO CITY LIGHTS  Vodafone was the first advertiser to use the 3D technology of Callao City...