NOVEMBER 2017
Actions on our screens
ORANGE AND GOOGLE TURN CALLAO INTO A LUNAR LANDSCAPE, A SKI RESORT AND NEW YORK CITY
To launch Google's first smartphone in Spain, the new Pixel 2 XL, Orange, the operator chosen to sell the device in our country, carried out a special action in Madrid's Square of Callao, using Augmented Reality technology on Callao City Lights' outdoor screens.
A spectacular action carried out by the Wildbytes agency, in collaboration with Leo Burnett, that transported the audience in the square to far-off locations, such as New York City, a ski resort and a lunar landscape.
With the aid of Augmented Reality, passers-by in Callao got a first-hand chance to try out the possibilities offered by one of the device's most noteworthy features: Google Assistant, a voice-activated virtual assistant that answers questions.
Other actions on our screens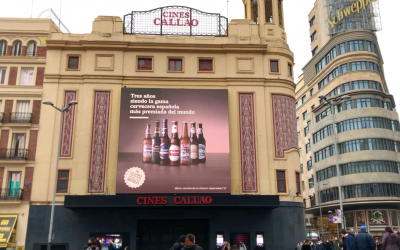 JANUARY 2021 Actions on our Screens   CALLAO CITY LIGHTS USERS INCREASE BY MORE THAN 20%   The Christmas period has been crucial in boosting Callao City Lights' impact and audience figures. Traffic...