OCTOBER 2018
Actions on our screens
NEW BALANCE USES ARTIFICIAL INTELLIGENCE TO CHOOSE 'EXCEPTIONAL' WOMEN IN CALLAO
An original action by New Balance España that consisted in detecting exceptional women among the passers-by in the area, due to their appearance, and making them feel like real fashion trendsetters. All this is in line with the positioning of the new Fresh Foam Cruz Nubuck shoe line.
To do this, several cameras were capturing the Callao's public, while a clothing pattern detection software was analyzing the images. When the system detected a woman who stood out because of her appearance, a group of paparazzi approached her to take pictures, as if she were a real celebrity. The whole process was broadcast live on the giant screen of Callao City Lights, including information on why each woman selected was an exception to the rest of the passers-by. The selected women were accompanied to the VIP NB Lounge located in the plaza, where they received a pair of Fresh Foam Cruz Nubuck trainers as a reward for their distinction and exceptionality.
For this action, the Wilbytes agency developed specific software based on the so-called "machine learning". A technology that allows a computer to learn how to make decisions based on data and training, that is, by accumulating experience, in much the same way as we humans do. In this case, the learning was about the most common fashion styles in the centre of Madrid.
Other premieres at Callao City Lights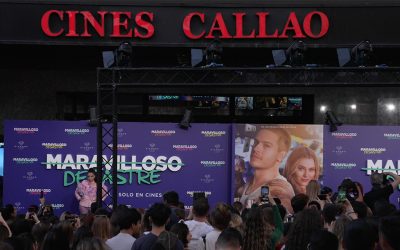 MAY 2023 EVENTS IN OUR SPACE  ATRESPLAYER PREMIUM CHOOSES CALLAO FOR UPA NEXT PREMIERE   The doors of Cines Callao were packed to receive the stars of UPA Next, the sequel to the series 'Un paso...