Other actions on our screens
MAHOU CINCO ESTRELLAS AND CALLAO CITY LIGHTS ANIMATE THE SANTIAGO BERNABÉU'S GREAT MEETING
In accordance with its dynamic to generate encounters between people and with its link to the world of football, Mahou Cinco Estrellas organized The Great Meeting in Madrid's Plaza del Callao. An original action where the official Real Madrid's beer brand, surprised consumers once again, this time on the occasion of the exciting football match played on March 1st at the Santiago Bernabéu. For its development, the brewing firm counted on the collaboration of the Callao City Lights' digital screens.
The audience could participate in the draw for 3 double tickets for the match, joining the Santiago Bernabéu's terraces recreated in front of the Callao Cinemas' entrance and answering the questions of who would attend the match with and why. That moment was immortalized with a photo uploaded to the screens of Callao City Lights to be part of an images' carousel with the participants' faces.
The former Real Madrid player Álvaro Arbeloa was, to the surprise of all the participants and curious people who approached the area, the one in charge of pressing the button placed in front of the stands to choose the winners.
The action was animated by Javi and Paloma Freestyle, Spanish champions in that discipline, and was carried out with great audience participation.
Other premieres at Callao City Lights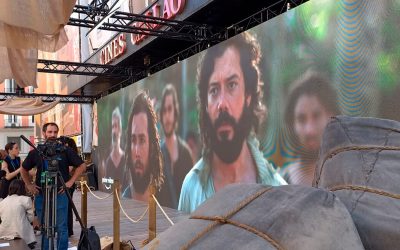 JUNE 2022EVENTS IN OUR SPACEFELIPE VI, MAGALLANES AND ELCANO CONQUER CALLAO IN THE PREMIERE OF 'SIN LÍMITES' King Felipe VI was the real star of the premiere of the miniseries ''Sin límites', held...