SEPTEMBER 2020
Actions on our screens
ALMEDIA PRESENTS IN CALLAO THE CAMPAIGN 'VEN AL TEATRO, VIVE MADRID' ('COME TO THE THEATRE, LIVE MADRID').
The Mayor of Madrid, José Luis Martínez-Almeida, presented in the Plaza del Callao the campaign 'Come to the theatre, live Madrid', an initiative sponsored by the City Council and promoted by the Association of Producers and Theatres of Madrid (APTEM), with the aim of recovering the numbers of visitors who went to theatres before the pandemic and to encourage enthusiasm for enjoying Madrid's wide range of shows.
The event included the participation of the Callao City Lights screen located in the square, where the image of the campaign could be seen during the Mayor's speech, and ended with the broadcasting of the promotional video that will form part of this action.
"Come to the theatre, live Madrid" will be broadcast locally and nationally on television, radio, digital press, social networks and outdoor media (bus shelters, metro hoardings and advertising supports in Atocha).
The campaign will also involve entities such as Adif, Alsa, El Corte Inglés and Endesa. In addition, under the hashtag #Vuelvealavida, it will be visible in other spaces such as the Palacio de la Prensa, backlit kiosks, advertising supports in shopping centres, EMT buses and on the social networks of personalities and influencers linked to the world of culture.
All the communication actions will begin on 4 October and will be active until November. In addition, the campaign will be present in the 21 theatres of the Association of Producers and Theatres of Madrid, both on their respective websites and social networks as well as on posters and digital screens.
The campaign image has been developed by the illustrator Beatriz Ramo (Naranjalidad), which conveys the "feeling of excitement, fantasy and fun that is experienced when attending any of the various productions offered by the city of Madrid".
Accompanying the mayor at this event were also the Delegate for Culture, Tourism and Sport, Andrea Levy; the Delegate Councillor for Tourism, Almudena Maíllo, and the President of the Association of Producers and Theatres of Madrid (APTEM), Jesús Cimarro.
Other premieres at Callao City Lights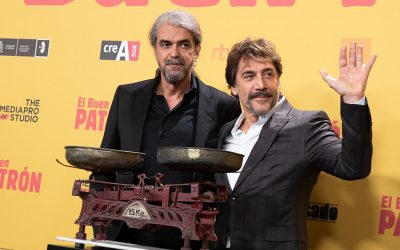 APRIL 2022 EVENTS IN OUR SPACE SUCCESSFUL CHARITY SCREENING OF THE DOCUMENTARY SERIES "EL CAMINO INTERIOR". Nearly 1200 people attended the charity screening of 'El Camino Interior', the documentary...