NOVEMBER 2018
Actions on our screens
LOTTERIES FILLS CALLAO AND GRAN VÍA BECAUSE OF THE SPECIAL CHRISTMAS DRAW SPOT LAUNCH
As a start to one of the most emblematic campaigns of the Christmas holidays, Loterías y Apuestas del Estado carried out during the night of November 14 a special action in the exterior, synchronizing the digital screens of Callao City Lights, Super 8 and Capitol. For two hours (from 21:15h to 23:15h) images of the spot could be seen inviting passers-by to discover the full story on the website created for the campaign: www.22otravez.es
This innovative action, devised by Universal McCann, an agency of the IPG Mediabrands group, complemented the presence of Loterías y Apuestas del Estado within the Madrid Premiere Week film festival, held throughout the week in Cines Callao. After a two-day teaser campaign, on the 14th, attendees were able to view the entire spot as if it were just another film from the festival.
Under the title "22 otra vez", the spot made by Contrapunto BBDO and directed by Javier Ruiz Caldera, tells the story of Juan, a sullen and lonely man who discovers, thanks to the Christmas Lottery draw, that all the money in the world is useless if you do not have someone to share it with.
Other premieres at Callao City Lights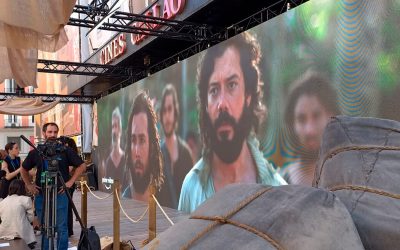 JUNE 2022EVENTS IN OUR SPACEFELIPE VI, MAGALLANES AND ELCANO CONQUER CALLAO IN THE PREMIERE OF 'SIN LÍMITES' King Felipe VI was the real star of the premiere of the miniseries ''Sin límites', held...