OCTOBER 2014
Actions on our screens
FOX PUTS FANS INTO ITS MOST POPULAR SERIES, THANKS TO AUGMENTED REALITY
To share the launch of several new seasons for series broadcast by Fox (The Walking Dead, Homeland and Marvel's Agents of Shield), the channel turned Callao Square into the universe created by these shows, jam-packing the square and garnering over half a million views on YouTube in just two short days.
The audience in Callao Square were able to star in their favourite series, thanks to the spectacular Augmented Reality action carried out on Callao City Lights' outdoor screens with the collaboration of technology company Wildbytes.
The channel had invited its series' fans through social media, promising that they would star in their favourite shows. Guests had a first-hand experience that they could share and comment on with the hashtag #AhoraTeTocaATi (#NowIt'sYourTurn).
Spectators in the square got to test "jumping into" certain scenes in "The Walking Dead:" Callao Square was filled with zombies, and the most emblematic surrounding buildings took on an apocalyptic appearance, engulfed in creeping vines. They did the same thing with "Homeland," "Marvel's Agents of Shield" and "Sleepy Hollow." For over an hour and a half, fans of the series got to participate in some of their action scenes.
Other premieres at Callao City Lights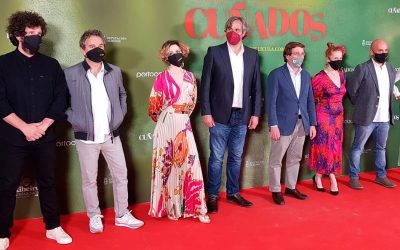 APRIL 2021 OUR PREMIERES  MARTÍNEZ-ALMEIDA AND YOLANDA DÍAZ, AT THE PREMIERE OF 'CUÑADOS'   A great reception for the premiere at Cines Callao of the film 'Cuñados', debut film by Toño López and...