FEBRUARY 2017
Actions on our screens
CINE CALLAO PAYS TRIBUTE TO THE WORLD OF CELLULOID ON ITS 90TH BIRTHDAY
Cine Callao, one of the most emblematic cinemas in Madrid, held a lavish celebration for its 90th birthday, with a party paying tribute to the world of celluloid. Well-known personalities from film and entertainment attended the event, with constant nods to film. The outdoor screens of the iconic building in Callao Square showed images which, thanks to augmented reality technology, brought the audience crowding this Madrid plaza back to the 1920s, simulating a silent horror film with cinematographic characters from different time periods, such as Nosferatu and King Kong, along with futuristic elements.
The event, led by host Carlos Sobera, included a showing of a commemorative video for Cine Callao's 90 years of history. It showed figures from the film industry, such as film director Chus Gutiérrez, producers Enrique Cerezo and Enrique López-Lavigne and actress Terele Pávez, and more, narrating the cinema's important role in Madrid's film history. The new corporate image was also introduced.
What's more, guests could take photos with some of the most popular faces and celebrities in the history of film as they wandered about the cinema. Marilyn Monroe, Darth Vader, the Marx Brothers, Audrey Hepburn, Humphrey Bogart, Indiana Jones and the character interpreted by Uma Thurman in Kill Bill posed next to guests at the party. Of course, there was great music, with well-known film soundtracks performed live by the Spring Cuartet band and a huge birthday cake.
Other premieres at Callao City Lights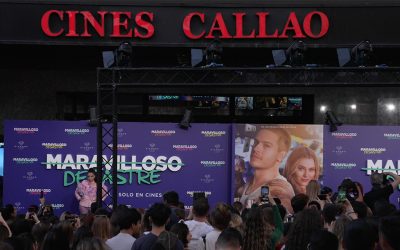 NOVEMBER 2023 EVENTS IN OUR SPACE  FUN PREMIERE OF 'CHRISTMAS IN THEIR HANDS'  Cines Callao opened its doors to welcome the stars of 'La Navidad en sus manos', the new Christmas comedy that will...