MAY 2021
Other actions on our screens
CALLAO CITY LIGHTS PARTICIPATES IN THE CAMPAIGN 'FABRICADO EN MADRID'
Callao City Lights, the brand under which the outdoor screens and the interior space of Madrid's Cines Callao are marketed, is one of the protagonists of the 'Fabricado en Madrid' promotional campaign that has just been launched by the Foro de Empresas por Madrid, an entity linked to the capital's City Council. Its aim is to highlight the importance of Madrid's industry, generate a sense of belonging and pride in products made in Madrid and promote the growth of the city's industrial activity, thus generating wealth and resilience to the economic situation.
Callao City Lights participates in this initiative as a creator of unique and surprising experiences, both for the public that passes through the coverage area of its large format digital screens, and for the companies that decide to hold their events in the different spaces of the Callao Cinemas building. In the case of the screens, it achieves this thanks to technology (3D, augmented reality…), to the possibility of synchronising them with other media in the plaza or of broadcasting live events that are happening anywhere in the world. And in the case of events, by providing companies with a unique art deco-style building in the heart of the city, with the latest innovations in sound, image and lighting.
The campaign has been designed by the Tres tipos gráficos studio and will run from 31 May to 13 June on conventional and digital outdoor media (including the Callao City Lights screens), the internet (general and economic media, local media, micro-media, trade sites, consumers, etc.) and social networks.
Other premieres at Callao City Lights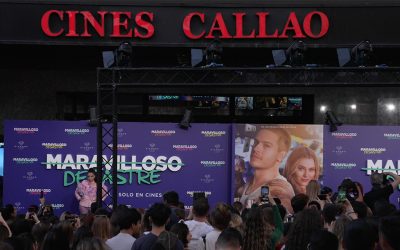 NOVEMBER 2023 EVENTS IN OUR SPACE  FUN PREMIERE OF 'CHRISTMAS IN THEIR HANDS'  Cines Callao opened its doors to welcome the stars of 'La Navidad en sus manos', the new Christmas comedy that will...