JULY 2020
Actions on our screens
CALLAO CITY LIGHTS BROADCASTS LIVE A SURPRISE CONCERT BY ALEJANDRO SANZ IN MADRID
The spontaneous event took place on one of the M-30's bridges on July 5th, and was broadcast live on the Callao City Lights' screens and others around the city.
Alejandro Sanz offered this concert in support of the city of Madrid, after the hard times experienced in the capital during the last few months due to the pandemic, and in gratitude to its City Council for having renamed one of the bridges on the M-30 as Corazón Partío; a tribute to the Madrid singer who spent a good period of his youth in the Moratalaz district, which the aforementioned bridge links to the Retiro district.
The Mayor of Madrid, José Luis Martínez-Almeida, attended the performance with other personalities from the Madrid City Council, where the artist performed three of his greatest hits: Viviendo deprisa, Looking for paradise and Corazón partío.
Video courtesy of Madrid Destino.
Other premieres at Callao City Lights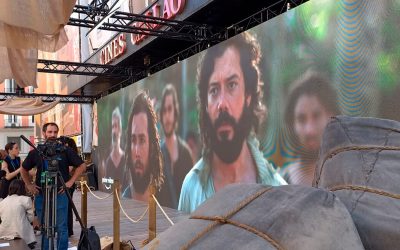 JUNE 2022EVENTS IN OUR SPACEFELIPE VI, MAGALLANES AND ELCANO CONQUER CALLAO IN THE PREMIERE OF 'SIN LÍMITES' King Felipe VI was the real star of the premiere of the miniseries ''Sin límites', held...