SEPTEMBER 2022
Actions on our Screens
ADIDAS ORIGINALS WITH FILIPPO GHISLERI AT GRAN VÍA CIRCUIT
To promote its proposals for the new season, Adidas Originals has launched a colourful campaign in Circuito Gran Vía with the collaboration of the Italian digital artist Filippo Ghisleri. The sports brand has used the 15 screens located outside Cines Callao and the Lope de Vega, Coliseum and Rialto theatres in an action that includes 3 different creativities.
The main piece features a futuristic character walking down a catwalk with colourful background images of different clothing and footwear items that have been iconic throughout the brand's history. Under the slogan 'Reinventing the past, creating the future, defining a new era of originality', the other two pieces feature the Adidas logo, one with a blue background and the other with a white background, which appears as if it were a balloon passing in front of the screens.
Dimensional walk', as this work is called, represents the past and future of Adidas with a journey through some of its most emblematic moments towards a new future yet to be discovered.
The media management of this action has been in charge of Mediacom Barcelona (GroupM).
Other events in Callao City Lights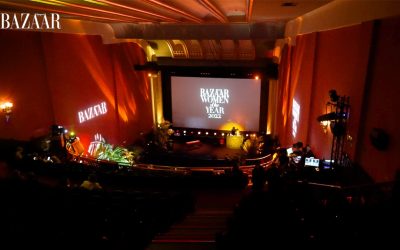 NOVEMBER 2022 EVENTS IN OUR SPACE  HARPER`S BAZAAR CHOOSES CALLAO FOR WOMEN OF THE YEAR AWARDS A night of luxury and glamour at Cines Callao. More than 250 guests attended the gala of the first...
Other actions in Callao City Lights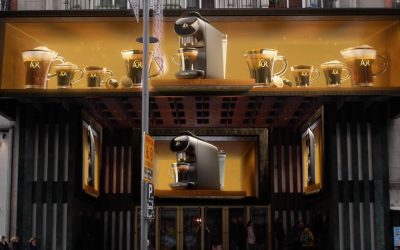 OCTOBER 2022 Actions on our Screens  L'OR FILLS THE GRAND VIA CIRCUIT SCREENS WITH COFFEE    A L'OR capsule protrudes from the screen and is enveloped by a swirl of golden powder and coffee beans,...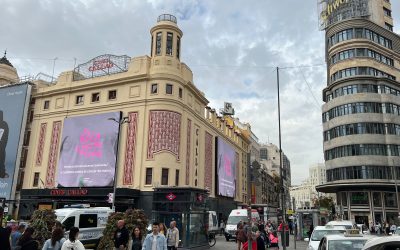 OCTOBER 2022Actions on our ScreensTHE SPANISH ASSOCIATION AGAINST CANCER COMMEMORATES IN CALLAO THE DAY AGAINST MOM'S CANCEROn the occasion of the International Day of the Fight against Breast...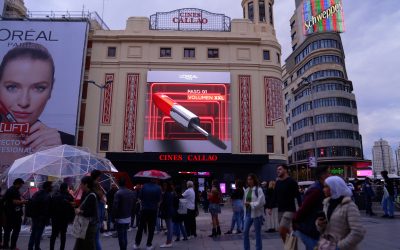 OCTOBER 2022 Actions on our screens  L'ORÉAL PARIS TURNS CALLAO SQUARE INTO A SPECTACULAR BEAUTY SALON   L'Oréal Paris has carried out with the collaboration of Callao City Lights a striking action...