SEPTEMBER 2022
EVENTS IN OUR SPACE
ALMEIDA PROMOTES THE MADRID SCENE AT AN EVENT IN CALLAO
The Mayor of Madrid, José Luis Martínez-Almeida, presented in the Plaza del Callao a new edition of the campaign 'Come to the theatre, live Madrid', the aim of which is to promote what the City Council describes as "the biggest season of theatre and musicals in its history to attract tourism".
The event included the participation of the Callao City Lights screen located in the square, where the image of the campaign could be seen during the Mayor's speech, and ended with the broadcast of the promotional video that will form part of this action.
Designed in collaboration with the Association of Producers and Theatres of Madrid (APTEM), the campaign reflects the feeling of excitement, magic and fun felt by spectators who attend the various productions, and invites them to enjoy one of the most popular tourist attractions in the capital: going to its theatres.
The action, which will be present on radio, television, digital media and outdoor advertising media, will be broadcast in the Madrid region and in the cities of Barcelona, Valencia and Seville until 1 November.
Record
The new theatrical season that is now opening will be a record for the Madrid stage, with 13 musicals and hundreds of titles on the bill.
Madrid is the world capital of musicals in Spanish and aspires to move from fourth to third place in the ranking of cities with the largest offer of this type of show, behind only New York and London.
The Mayor of Madrid was accompanied by the Delegate for Culture, Tourism and Sport, Andrea Levy, the Delegate Councillor for Tourism, Almudena Maíllo, and the President of the Association of Producers and Theatres of Madrid (APTEM), Jesús Cimarro. Also present were Madrid producers and actors such as Josema Yuste, Santiago Urrialde, Luis Piedrahita, Magüi Mira and Natalia Millán.
Other events in Callao City Lights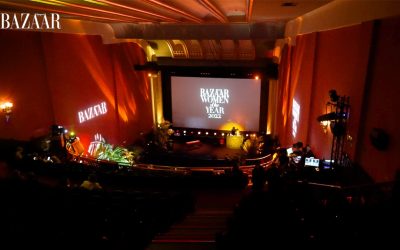 NOVEMBER 2022 EVENTS IN OUR SPACE  HARPER`S BAZAAR CHOOSES CALLAO FOR WOMEN OF THE YEAR AWARDS A night of luxury and glamour at Cines Callao. More than 250 guests attended the gala of the first...
Other actions in Callao City Lights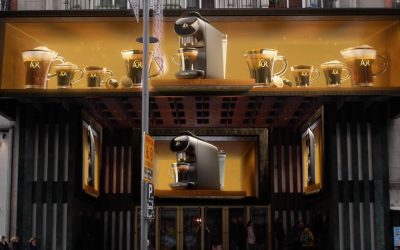 OCTOBER 2022 Actions on our Screens  L'OR FILLS THE GRAND VIA CIRCUIT SCREENS WITH COFFEE    A L'OR capsule protrudes from the screen and is enveloped by a swirl of golden powder and coffee beans,...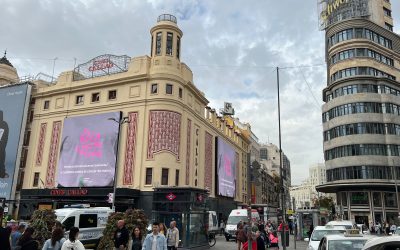 OCTOBER 2022Actions on our ScreensTHE SPANISH ASSOCIATION AGAINST CANCER COMMEMORATES IN CALLAO THE DAY AGAINST MOM'S CANCEROn the occasion of the International Day of the Fight against Breast...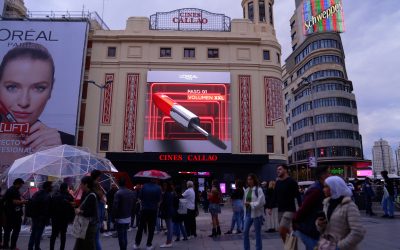 OCTOBER 2022 Actions on our screens  L'ORÉAL PARIS TURNS CALLAO SQUARE INTO A SPECTACULAR BEAUTY SALON   L'Oréal Paris has carried out with the collaboration of Callao City Lights a striking action...