AUGUST 2021
OUR PREMIERES
THE OUTDOOR PHOTOCALL RETURNS WITH THE PREMIERE OF 'GARCÍA Y GARCÍA'.
Finally we could return to the outdoor photocall, since the pandemic began a year and a half ago. The public flocked to the Plaza del Callao on 25 August to see the stars and guests of the premiere of 'García y García', the comedy by Ana Murugarren starring Pepe Viyuela and José Mota.
A plot of misunderstandings based on the confusion of identities in which Carlos Areces, Antonio Resines, Eva Ugarte, Jordi Sánchez, Ricardo Castella and Ramón Barea, among others, also take part.
While the guests and cast arrived to walk the red carpet, the audience in the square was able to see some of the scenes from the film on the outdoor screens of the Callao Cinemas.
Produced by Blogmedia and Clarq Films,, this feature film is distributed by A Contracorriente Films.
Other premieres at Callao City Lights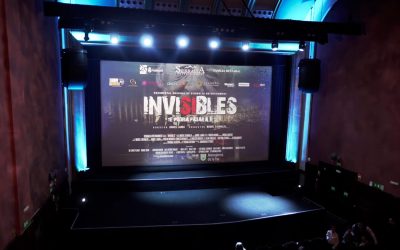 OCTOBER 2022 EVENTS IN OUR SPACE  CINES CALLAO HOSTS THE PREMIERE OF "INVISIBLES".  Full house at the Callao Cinemas for the premiere of the documentary 'Invisibles' on 20 October. A charity event...