SEPTEMBER 2020
OUR PREMIERES
SUCCESSFUL AND 'WHITE' PREMIERE OF 'URUBÚ', ALEJANDRO IBÁÑEZ'S OPERA PRIMA
Callao opened its doors again, this time to celebrate the premiere of the thriller Urubú, the Alejandro Ibáñez first work, son of one of the masters of the genre in Spain, Narciso Ibáñez Serrador.
Many famous faces did not want to miss this preview, organised by Begin Again Films. Among them were several Real Madrid players such as Marcelo, who came to accompany his wife, the actress Clarice Alves, the protagonist of the film, Modric, Benzema, Vinicius Junior, Rodrygo, Casemiro and Militao.
Photos donated by Begin Again Films
Other premieres at Callao City Lights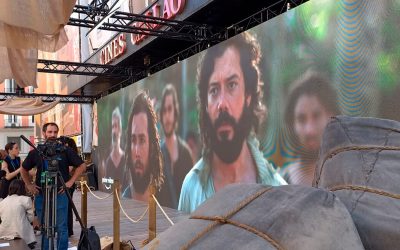 JUNE 2022EVENTS IN OUR SPACEFELIPE VI, MAGALLANES AND ELCANO CONQUER CALLAO IN THE PREMIERE OF 'SIN LÍMITES' King Felipe VI was the real star of the premiere of the miniseries ''Sin límites', held...