SANTIAGO SEGURA PRESENTS 'PADRE NO HAY MÁS QUE UNO'
With Sony Pictures, Santiago Segura presented his new film, 'Padre no hay más que uno', in Callao. A fun comedy starring and directed by himself, where he shares the cast with Toni Acosta, Silvia Abril, Leo Harlem, Wendy Ramos, Anabel Alonso, Pepa Charro, Goizalde Núñez, Fernando Gil, Luna Fulgencio, Carlos González Morollón and Martina Valeria de Antioquía. And whose script is signed by Segura himself together with Marta González de la Vega.
Many famous faces from the cinema an television world didn't want to miss the succesfull event.
Other premieres at Callao City Lights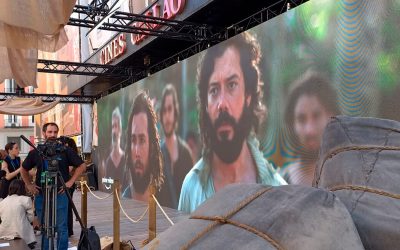 JUNE 2022EVENTS IN OUR SPACEFELIPE VI, MAGALLANES AND ELCANO CONQUER CALLAO IN THE PREMIERE OF 'SIN LÍMITES' King Felipe VI was the real star of the premiere of the miniseries ''Sin límites', held...