OCTOBER 2019
OUR PREMIERES
PREMIERE OF THE DOCUMENTARY 'ARA MALIKIAN, A LIFE AMONG THE ROPES
Callao hosted the premiere of the documentary 'Ara Malikian, a life among the ropes'. Directed by Nata Moreno, it tells the story of the multi-faceted Lebanese violinist with Armenian origin who, while still a child, had to leave a country at war and leave his family behind. This is a journey through the life of an artist who has managed to bring classical music to all audiences, both adults and children, handling all genres without prejudice, from Bach to Led Zeppelin, and with multiculturalism as his trademark.
Many famous faces did not want to miss this fantastic premiere in which they could also enjoy a live performance by the brilliant violinist.
Other premieres at Callao City Lights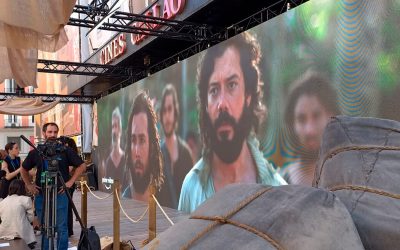 JUNE 2022EVENTS IN OUR SPACEFELIPE VI, MAGALLANES AND ELCANO CONQUER CALLAO IN THE PREMIERE OF 'SIN LÍMITES' King Felipe VI was the real star of the premiere of the miniseries ''Sin límites', held...