NOVEMBER 2018
OUR PREMIERES
MOVISTAR+ TRUSTS CALLAO FOR THE PREMIERE OF 'ARDE MADRID
Callao Cinemas rolled out its red carpet to celebrate the premiere of 'Arde Madrid', an original Movistar+ series created by Paco León and Anna R. Costa. Eugenia Martínez de Irujo, Inma Cuesta, Mario Vaquerizo, Pelayo Díaz, Melody and Paco León himself were some of the famous faces who attended the long-awaited premiere. A large photocall in which the original costumes of many of the protagonists attracted attention….
Throughout 8 chapters, 'Arde Madrid' tells the story of the dolce vita of the actress Ava Gardner during her stay in Madrid in the 60s, through the experiences of her domestic service.
Other premieres at Callao City Lights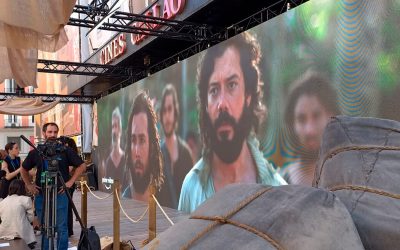 JUNE 2022EVENTS IN OUR SPACEFELIPE VI, MAGALLANES AND ELCANO CONQUER CALLAO IN THE PREMIERE OF 'SIN LÍMITES' King Felipe VI was the real star of the premiere of the miniseries ''Sin límites', held...