FEBRUARY 2020
OUR PREMIERES
MEDIASET COMES BACK TO CALLAO WITH THE PREMIERE OF 'ADÚ
The Adú premiere was a great success in terms of attendance at the Callao Cinemas. Many familiar faces along with the film's protagonists, Luis Tosar and Anna Castillo, and all their technical and artistic team, did not want to miss this fabulous premiere of Mediaset España. Paolo Vasile, CEO of Mediaset España, and other personalities from the world of culture and politics were also present.
Directed by Salvador Calvo and distributed by Paramount Pictures, the film offers a portrait of the immigration drama. This is Telecinco Cinema's first production, in which Ikiru Films, La Terraza Films, ICAA and Mogambo have also participated.
Other premieres at Callao City Lights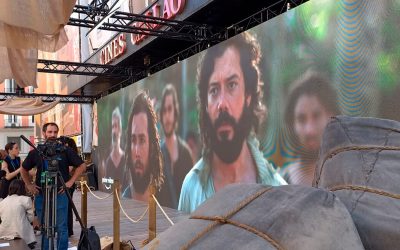 JUNE 2022EVENTS IN OUR SPACEFELIPE VI, MAGALLANES AND ELCANO CONQUER CALLAO IN THE PREMIERE OF 'SIN LÍMITES' King Felipe VI was the real star of the premiere of the miniseries ''Sin límites', held...