AMAZON PRIME VIDEO PRESENTS THE SECOND SEASON OF EL CID
The terrace of the Callao Cinemas was the setting chosen by Amazon Prime Video for the presentation of the second season of El Cid, the historical and action series produced by Zebra Producciones. Starring Jaime Lorente, José Luis García Pérez, Elia Galera, Carlos Bardem, Juan Echanove and Alicia Sanz, among others, the new series can be seen from 15 July.
The event was attended by several of the main characters and members of the teams involved in this work. The event was presented by Ainhoa Arbizu and enlivened by an orchestra, under the direction of Alfonso G. Aguilar, who played the soundtrack of the series. A composition by G. Aguilar himself, creator of the music for Klaus, nominated for an Oscar for best animated film, and Gustavo Santaolalla, winner of two Oscars for the soundtrack of Brokeback Mountain (2006) and Babel (2007).
Other premieres at Callao City Lights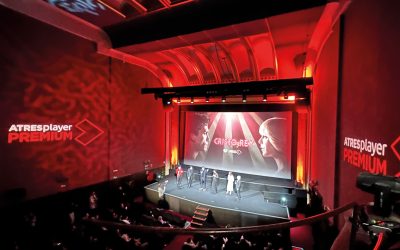 JANUARY 2023 EVENTS IN OUR SPACE  FULL HOUSE AT THE PREMIERE OF 'CRISTO Y REY'  Nobody wanted to miss the preview at Cines Callao of 'Cristo y Rey', the eagerly awaited series about the relationship...