MARCH 2018
Actions on our screens
SAMSUNG ANNOUNCES THE GALAXY NOTE9 LAUNCH WITH A SYNCHRONISED ACTION ON CALLAO'S SCREENS
To raise awareness of the new Galaxy Note9 launch, Samsung Spain and its agency Cheil Spain held a spectacular synchronised action on the digital screens in Madrid's Square of Callao, including the two Callao City Lights screens, located on the outside of the Cines Callao.
From 24 August until 6 September, a video was broadcast about the new device's main new features: a battery that lasts all day (up to 1 terabyte, with expandable memory), a more powerful S Pen, a smart camera that automatically optimises, and versions in three different colours (blue, purple and pink). The synchronisation effect reached its pivotal moment when it showed an example of how the S Pen works: the stroke went linearly across all the screens in the square, drawing different figures on each one of them, turning Callao into a true visual spectacle.
For Samsung Spain, this is the second synchronised action it has carried out this year on the screens at Callao Square. The previous action took place last spring, to launch the new Galaxy S9 and S9+ devices. Entitled "Parkour," it won Cheil Spain and Samsung Electronics several international advertising awards; two gold prizes at the El Sol 2018 festival, one in the Media section and another in the Outdoor section, and a Silver Lion at Cannes Lions 2018, in Outdoor.
Para Samsung España supone la segunda acción sincronizada que realiza este año en las pantallas de la Plaza del Callao. La anterior se llevó a cabo la pasada primavera con motivo del lanzamiento de los nuevos terminales Galaxy S9 y S9+. Titulada 'Parkour', consiguió que Cheil Spain y Samsung Electronics obtuvieran con ella varios reconocimientos publicitarios internacionales; dos oros en el festival El Sol 2018, uno en el apartado de Medios y otro en el de Exterior, y un león de plata en Cannes Lions 2018, en Outdoor.
Other premieres at Callao City Lights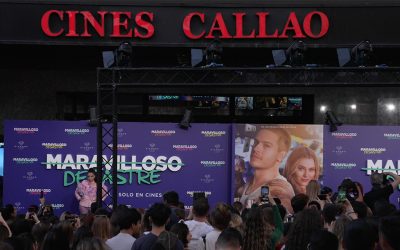 NOVEMBER 2023 EVENTS IN OUR SPACE  FUN PREMIERE OF 'CHRISTMAS IN THEIR HANDS'  Cines Callao opened its doors to welcome the stars of 'La Navidad en sus manos', the new Christmas comedy that will...