JULY 2020
Other actions in our screens
FESBAL AND HMG CHARITY ACTION TO END THE 'HUNGER QUEUES'
Together with Havas Media Group, FESBAL (Spanish Federation of Food Banks) has started a campaign to end the 'hunger queues', which have increased as a result of the pandemic. The action could be seen a few days ago on the outdoor screens of the Callao Cinemas in Madrid, which get involved in solidarity with other media in this initiative.
The campaign is based on a study wich reveals that the most annoying and stressful thing that Spaniards have experienced during the pandemic has been waiting in lines to enter the supermarket. However, as a result of the situation, other types of queues have also been formed, those of hunger, which we cannot allow. That is why Havas Media Group and FESBAL have promoted this charity initiative in order to help people who have been left without resources because of this crisis.
The campaign, where citizens are invited to collaborate with FESBAL by making a donation, has benefited from the selfless participation of other outdoor advertising media and food distribution chains.
The initiative would not have been possible without the involvement of the outside media, which is absolutely a key to the action, as the message develops its full meaning in the streets, the place where the contrast between the different queues (those of hunger and those of purchase) is made manifest and where donations are invited.
Other premieres at Callao City Lights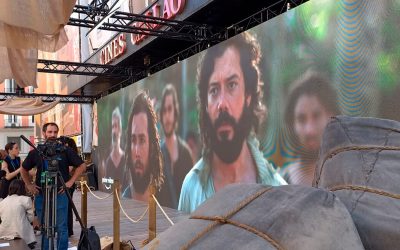 JUNE 2022EVENTS IN OUR SPACEFELIPE VI, MAGALLANES AND ELCANO CONQUER CALLAO IN THE PREMIERE OF 'SIN LÍMITES' King Felipe VI was the real star of the premiere of the miniseries ''Sin límites', held...