JANUARY 2020
Actions on our screens
CHANEL IMPREGNATES CALLAO WITH CHANEL Nº 5
On the Christmas holidays occasion, Chanel carried out a special action on our screens to promote one of its most iconic fragrances: Chanel No. 5. During the days before Christmas and Epiphany, the firm broadcast the brand's advertisement several times a day, in five-minute loops.
Other actions on our screens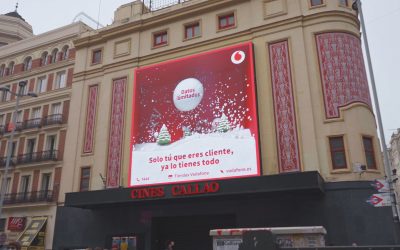 DECEMBER 2020 Actions on our Screens  VODAFONE, MRS. RUSHMORE AND YMEDIA MAKE THE FIRST 3D CAMPAIGN IN CALLAO CITY LIGHTS  Vodafone was the first advertiser to use the 3D technology of Callao City...