SEPTEMBER 2020
Our corporate Events 
CALLAO CITY LIGHTS JOINS THE 'RED ALERT EVENTS' MOVEMENT
On September 17th, the outdoor screens of Callao City Lights were dyed red as a sign of support for the 'Red Alert Events' movement, which aims to give visibility to the difficult situation the events and entertainment industry is going through due to the pandemic. Callao City Lights is one of the most significant venue for holding events in Madrid, the Callao Cinemas.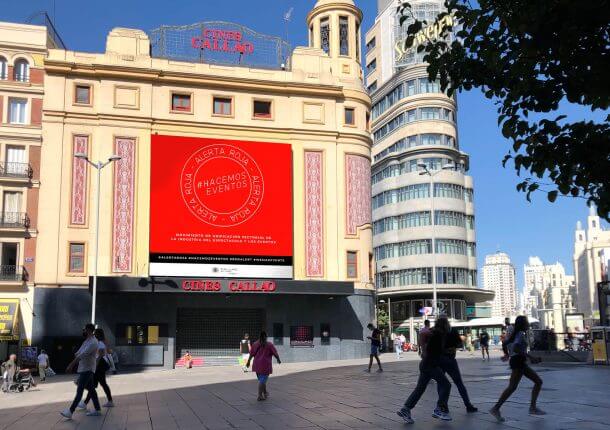 Other emblematic buildings and venues all over Spain were also lit up in red, and crowds of people manifested in 28 cities throughout the country to denounce the serious problem this industry is going through as it was forced to cease its activity, even before the state of alarm was declared. Likewise, individuals and companies from the culture world, events and entertainment industry joined this action by sharing red images on their social networks, accompanied by hashtags like #HacemosEventos #RedAlert or #WeMakeEvents.
Promoted by associations, individuals and corporations from various countries, 'Red Alert' is an international movement that seeks to make public opinion and authorities aware of the suffering of an important sector to which thousands of companies and independent professionals belong, and the need to take urgent action to ensure their survival.
In Spain, the 'Alerta Roja' movement is promoted by MUTE (Movilización Unida de Trabajadores del Espectáculo) supported by entities such as ADEPE (Asociación de Espacios para Eventos), to which Callao City Lights belongs.
Other events in Callao City Lights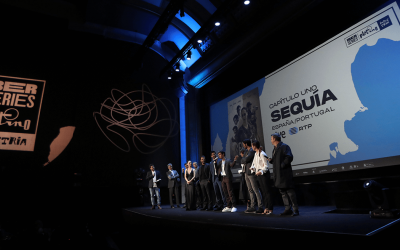 SEPTEMBER 2021 EVENTS IN OUR SPACE  CALLAO CINEMAS, STAGE OF THE I EDITION OF IBERSERIES PLATINO INDUSTRIA    The Callao Cinemas  were one of the venues chosen to celebrate the first edition of the...
Other actions in Callao City Lights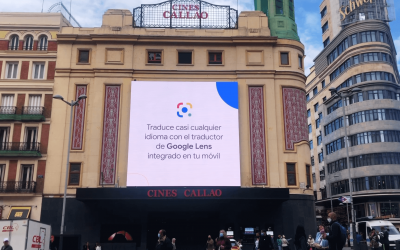 OCTOBER 2021 Actions on our Screens  GOOGLE LENS INVITES THE PUBLIC TO TRANSLATE THE TEXTS THAT APPEAR ON THE SCREENS OF CALLAO CITY LIGHTS.  To demonstrate the possibilities of the Google Lens...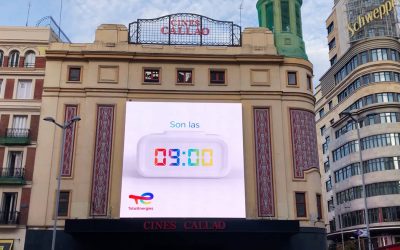 OCTOBER 2021 Actions on our Screens  TOTAL ENERGIES EMPLOYS HUMOUR AND CONTEXTUALISED CREATIVITY IN ITS FIRST CALLAO CAMPAIGN  Total Energies has used contextualised creativity in its first special...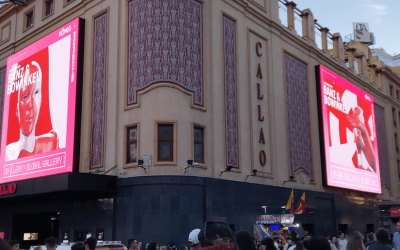 OCTOBER 2021 Actions on our Screens  PORSCHE TURNS CALLAO INTO A GLOBAL ART GALLERY  Porsche has chosen the most emblematic digital screens in the world to exhibit the work of emerging digital...