JULY 2019
Actions on our screens
ARA MALIKIAN PRESENTS ITS NEW ALBUM WITH SYNCHRONISED ACTION ON THE CALLAO SCREENS
On the launch ocasion of his new album 'Royal Garage', the brilliant violinist Ara Malikian gave a 360º digital concert in Callao. A spectacular synchronised action on the screens in the plaza that culminated in his live performance from the rooftop of the Callao Cinemas.
Other actions on our screens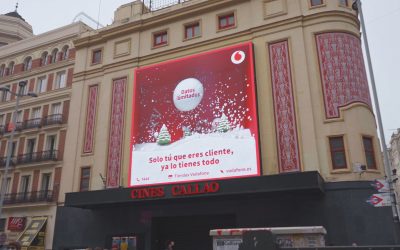 DECEMBER 2020 Actions on our Screens  VODAFONE, MRS. RUSHMORE AND YMEDIA MAKE THE FIRST 3D CAMPAIGN IN CALLAO CITY LIGHTS  Vodafone was the first advertiser to use the 3D technology of Callao City...